Take-Home Messages
Abbreviations
CCM chronic care model
MDT multidisciplinary team
PAD peripheral arterial disease
Introduction
Five hundred and thirty-seven million adults between the ages of 20 and 79 years old are currently living with diabetes worldwide; this equates to 1 in 10 people. This number is predicted to rise to 643 million by 2030 and 783 million by 2045 unless sufficient action is taken [1]. Diabetes is a major risk factor for peripheral arterial disease (PAD), with 20% of people living with diabetes found to have PAD [2]. This is because metabolic abnormalities caused by diabetes induce vascular dysfunction that predisposes people with diabetes to atherosclerosis. This in turn, leads to non-healing ulcers resulting in lower limb amputation and mortality [3].
Risk factors for PAD include age, hypertension, smoking and hyperlipidaemia. In a recent systemic review looking at global prevalence and risk factors of PAD, diabetes ranked next to smoking, followed by hypertension and hyperlipidaemia, as major risks for PAD [4]. Intensive treatment of modifiable risk factors are recommended for the treatment of PAD, including lifestyle interventions such as smoking cessation and exercise in conjunction with evidence-based pharmacological interventions. People with PAD should receive intensive preventive interventions with medicines to reduce their cardiovascular risk.
Although definitive guidelines exist, people with PAD continue to be undertreated in terms of medical management and risk factor modification. The REACH registry showed that in the outpatient setting people with PAD alone versus those with PAD in addition to coronary artery disease (CAD) or cerebrovascular disease were prescribed antiplatelets (76% vs 84%) and statins (50% vs 73%) less often [5]. This is likely due to the ongoing perception that PAD is not as severe as CAD.
For optimal deployment of the team there should be a coordinated, systematic approach to care that ensures that dedicated resources are put into the management of all aspects of care required to optimise outcomes for the person living with PAD. As we look to make use of all the resources available for the management of PAD in all populations, we should note that pharmacists are in a prime position within the multidisciplinary team (MDT) to offer a plethora of support and skill to ensure that high-quality care remains a priority and that person-centred care is offered.
Chronic care model
The chronic care model (CCM) is a widely adopted approach aimed at providing optimal care for people living with long-term conditions whilst redefining roles of the health care team and empowering self-management of people with diabetes [6]. The CCM is designed to improve the quality of diabetes care and has six key elements:
Delivery design system
Self-management support
Decision support
Clinical information systems
Community resource
Health systems
Collaboration and an MDT approach is at the centre of all these elements. The focus on team-based work is to ensure that people living with diabetes are seen by the team member with the most experience for the required intervention. A 5-year effectiveness study of the CCM for 53,436 people with type 2 diabetes found an overall decrease in the cumulative incidence of diabetes-related complications, with people enrolled in the CCM experiencing a reduction in cardiovascular disease risk by 56.6%, microvascular complications by 11.9%, and mortality by 66.1% [7].
The costs saved when employing a system of care like this can be quite considerable. One study showed as much as $7,294 per individual could be saved in healthcare utilisation [7].
Delivery design systems and health systems
People living with diabetes and PAD may be managed by a host of specialists including experts in diabetes, vascular surgery, renal medicine, lipidology and cardiology. They may also be seen by medics, pharmacists, specialist nurses, dieticians, podiatrists and ophthalmologists as well as many others. A framework for the operational delivery of hospital trust-based diabetic foot services, as set out by Diabetes UK, suggests that people presenting to these services should have their diabetes and other medical conditions managed while their foot disease is being assessed and treated [8]. It is important to look beyond the silo of hospital-based care though.
A tiered approach, in which the person living with diabetes is managed by a team comprised of a wide range of healthcare professionals with different types of expertise is essential to getting the best outcomes for people living with PAD and diabetes. This important multidisciplinary work should link into primary care networks. Some studies have even shown that by forming clinical networks there may be an increase of at least 10% in care processes being completed [9].
A recent publication supported by NHSE (National Health Service England), 'Best Practice in the Delivery of Diabetes Care in the Primary Care Network', suggests a four-tier model for diabetes care. Each tier comprising of a core team of clinicians: physicians, nurses, pharmacists and dietitians in addition to any required supportive roles e.g., vascular team, podiatrists, healthcare assistants etc. Figure 1 shows a potential application of this model to diabetes foot care [10].
Figure 1. Four-tiered model of care for optimal PAD management.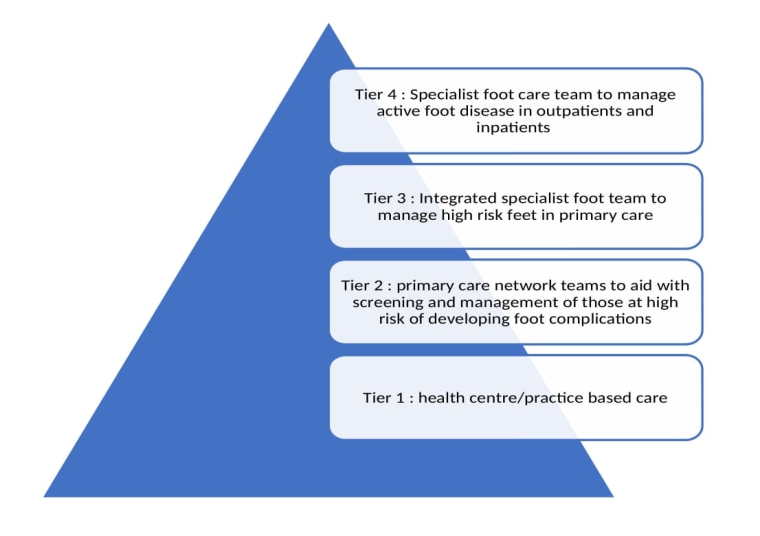 Self-management support
Structured education is still key to supporting people living with diabetes. One meta-analysis shows that when looking at a variety of quality improvement strategies in care delivery, the most impactful areas were patient education with a self-management element, task shifting and the use of technology and non-medic personnel to promote better communication between healthcare teams and the person living with diabetes [11, 12].
Open-access visits have the potential to free resources, putting the person in control of their own care [13]. This can provide clinicians with more time to focus on complex cases and gives control back to the person living with diabetes. Lack of access to healthcare professionals is one of the current major frustrations voiced by people living with diabetes who feel they are in need an intervention.
The COVID-19 pandemic has accelerated the way we use technology. Technology can be used for monitoring (e.g., home blood pressure monitoring, point-of-care testing etc.), helping people visualise what may be otherwise a silent risk factor. It can help people see improvements between appointments in addition to medication and lifestyle changes. This may help people go further and faster in achieving their own goals for care. Results can often be shared using applications with healthcare professionals. We must be mindful of digital poverty however and work to gain access for all.
Technology can also let us have virtual consultations with the person living with PAD as well as with other healthcare professionals who may be outside our physical place of work. From a person living with diabetes perspective, virtual consultations can provide flexibility for attending consultations. This is all part of offering a menu of options for people to access the care that they need. Although a physical presence may be needed in some cases and with certain professionals, a lot of risk factor management could be managed virtually.
Decision support and clinical information systems
Decision support and clinical information systems have a huge part to play in how we switch care from being reactive to proactive. This also links back to self-management support and how we use artificial intelligence to link our systems of the future.
In the UK, medicines optimisation teams are key to developing built-in alerts within clinical systems referring people to key documents and guidance. These can flag people to foot guidelines, for example, and help people get referred more quickly.
Dashboards and searches in primary care may help ensure people get flagged up to get related parameters managed earlier in disease processes. These systems should be developed so that the person is flagged to the right member of the MDT to best manage their needs [14]. For example, if someone has an intolerance to a medication, they may be best managed by the pharmacist. The system should guide that person to making an appointment with the pharmacy team.
Symptoms of PAD - including aching, cramping, numbness and weakness in the limbs that occur when walking or exercising - are poorly recognised outside of specialist practice [3]. The nature of these symptoms is such that they usually start by presenting on activity and remit on rest. Eventually the pain may be constantly present which can limit activities and quality of life for people with PAD. This information can be built into clinical decision-making systems, prompting thought in general practice and ensuring the person is asked about these types of symptoms more frequently.
Community resources
People living with PAD often have complexity in management of their comorbidities. The communities that surround that person e.g., relatives, carers, peers and community hubs should be developed as a resource for that person living with PAD. Community opinion can have a strong impact on what choices people make with their care. Education should be tailored to ensure that both the person and the communities supporting them can make informed decisions.
A community does not have to be a physical presence either, there has been success in the creation of online communities [15]. Take for example the multiprofessional group that formed to support people with diabetes during the COVID-19 pandemic, Diabetes 101. This online Twitter community now supports 7,040 followers.
Community pharmacists have a role to play. For instance, in the UK they offer smoking cessation services, and many are healthy-living pharmacies, promoting healthy lifestyles. We should also not forget the important role of social prescribers and health navigators in healthy lifestyle advice and support.
Competence and confidence
It is important that people managing this complex cohort of people are competent and confident to do so. Often it is challenging for interprofessional teams to know what standards other professionals should be working to. Pharmacists provide a good example of how this can be done robustly. In the UK, pharmacists must meet nine key standards as outlined by the General Pharmaceutical Council (GPhC). These standards describe how safe and effective care is delivered and they are a statement of what people can expect from pharmacy professionals; they reflect what pharmacy professionals have said they expect from themselves and from their colleagues [16].
In addition to independent prescribing and clinical diplomas, there is a plethora of specialist courses and qualifications which can be undertaken to prove conceptually that people can undertake this care with competence. The proof of concept though comes when people work to a framework, producing a portfolio of work. The development of 'An Integrated Career and Competency Framework for Pharmacists in Diabetes', which is supported and funded by the UK Clinical Pharmacist Association (UKCPA) has been a huge step forward for pharmacists [17]. This framework is also endorsed by Diabetes UK, Training Research and Education for Nurses in Diabetes (TREND UK™) and Primary Care Diabetes Society (PCDS). This specialist competence framework sits alongside the UK's Royal Pharmaceutical Society's Foundation Pharmacy Framework (FPF) and Advanced Pharmacy Framework (APF) to develop specific competences for pharmacists in the specialty of diabetes.
The expectation is that this competence framework will help develop a portfolio for individuals that demonstrate specialist skills and knowledge and therefore meet the needs of their professional society and specialised individuals. In the USA, the American Pharmacists Association (APhA) offers a training programme – The Pharmacist and Patient-Centred Diabetes Care – which provides pharmacists with the opportunity to develop the necessary knowledge, skills, and confidence to provide effective, evidence-based care for people living with diabetes [18].
Building a portfolio with support from specialised colleagues and taking part in MDT work is key to developing specialty knowledge and skills. This should be undertaken by those who are new to the management of diabetes, due to the complexity of care within this area of practice.
A case study: pharmacist input
Pharmacists are important for delivering holistic reviews to people with multimorbid polypharmacy, using their expert knowledge of medications. Pharmacists can promote better adherence to medications by applying their understanding of motivational factors relating to medication-taking behaviour. In addition to this, their knowledge of drug-drug or drug-disease interactions, contraindications and side-effects of medicines can help discover any barriers to medication-taking. Close collaboration with the pharmacist and other specialists involved in the management of people with diabetes is essential in order to get the best outcomes for these people.
Once expert skills are developed, pharmacists can be the link between multiple disciplines, as specialists in the management of multimorbid polypharmacy for people with PAD and diabetes. As part of an MDT, pharmacists can offer a wealth of expertise within a clinical environment (Figure 2).
Figure 2. Examples of interventions by pharmacists for people with diabetes.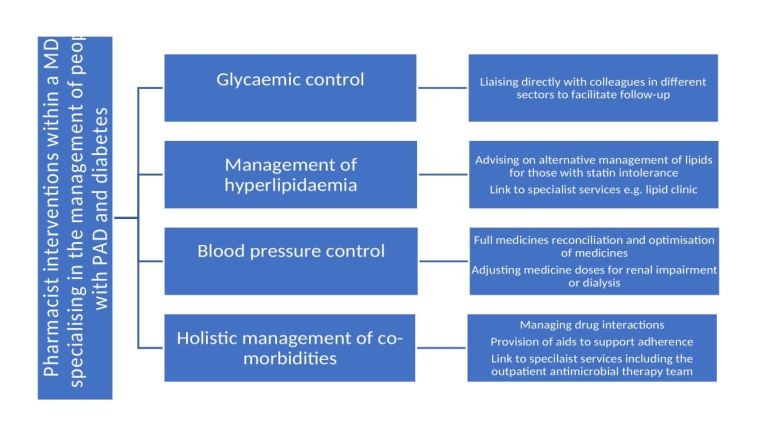 According to the US National Health and Nutrition Examination Survey data for 1998 to 2010, it was just over 50% of people who achieved a glycosylated haemoglobin (HbA1c) level of below 7% (52mmol/mol) and fewer than 20% of people achieved metabolic control (based on HbA1c, blood pressure and low-density lipoprotein cholesterol [LDL-C]) [19].
Pharmacists can make the interventions described in Figure 2 in a number of settings across primary and secondary care where they can enable a treat-to-target approach to ensure that there is no clinical inertia when managing this high-risk cohort of people living with diabetes. Pharmacists with an independent prescribing qualification can initiate, monitor and adjust medicines for the management of diabetes and PAD and recent literature has shown that pharmacists managing the treatment of people with diabetes can help achieve glycaemic control sooner compared with standard care [20].
Conclusions
The increasing number of people with diabetes worldwide will inevitably lead to an increasing number of people needing high-quality care for the treatment of PAD.
The future of PAD treatment must include coordinated, tiered care where the person can flow freely to access input from the professionals that are best placed to manage their care. We should look more to a wider MDT, to technologies, and to communities to enhance and support people.
Understanding and utilising the principles of the CCM will allow specialists in cardiology and cardiovascular disease to refer to other specialists for optimal management of the person's individualised needs.
For further information, please see the ESC clinical practice guidelines on the diagnosis and treatment of peripheral arterial diseases [21].