Keywords: aneurysm, aorta, arteries
Introduction
Aortic abdominal aneurysm (AAA) is a multifactorial vascular disease with high mortality (estimated to be in the region of 200,000 deaths per year worldwide) which is related to older age, and is more common in men than in women [1,2,3]. The prevalence of AAAs in selected population studies is very different – it is higher among men and lower among women in different studies [4,5]. The overall pooled prevalence of AAAs in 56 studies was found to be 4.8%. The prevalence of AAAs is higher in Australia (6.7%) than in Europe (2.5%) and America (2.2%); the lowest prevalence is in Asia (0.5%) [5].
AAAs are usually located below the renal arteries and end before the aorta bifurcation (Figure 1).
Figure 1. Location of abdominal aortic aneurysm (drawing by the author).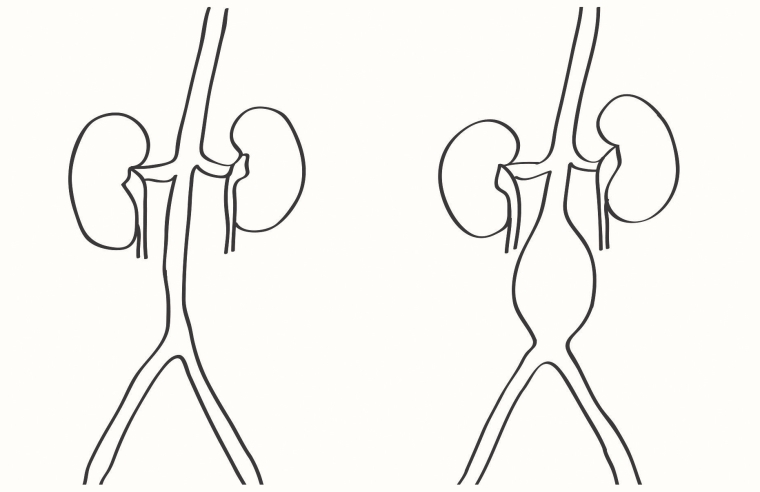 The development of diagnostic tools and screening programmes in recent years has promoted more frequent and earlier detection of AAAs. The course of the disease is long and could be asymptomatic for many years. For this reason, AAAs which are undiagnosed will, in time, result in a fatal rupture in most cases. This dramatic sequence of events dictated by the natural history of AAAs demands the careful supervision of patients from high-risk groups.
Risk factors
The main risk factors for the development of AAAs are smoking, hypertension, older age, male gender, atherosclerosis, dyslipidaemia, positive family history, and hereditary predisposition [1].
In a large cross‐sectional study published in February 2020 (1.5 million women and 0.8 million men), it was shown that, in women aged <75 years, the risk of AAA is much higher than previous studies had indicated [2]. Compared with never smoking, current smoking was associated with a 15 times higher risk of AAA among women and a 7 times higher risk among men. Each additional 4.0 kg/m2 higher body mass index (BMI) was associated with a 14% higher risk of AAA and was similar in men and women. Each 12.9 mmHg higher systolic blood pressure was associated with a 22% higher risk and this was somewhat stronger in women than in men [2].
In the case of a thoracic aortic aneurysm, genetic data may be used to identify certain individuals at risk. In the case of an AAA, the role of genetic factors is smaller than in the case of thoracic aortic aneurysms [5]. Marfan syndrome and Ehlers-Danlos syndrome have also been strongly associated with AAAs. Other causes of the development of AAAs include trauma, infection and arteritis.
Many pieces of evidence show that smoking is the major and strongest predictor of the prevalence, growth, and rupture rates of AAAs. This is directly related to the number of years of smoking and decreases with the number of years after cessation of smoking. The risk of developing an AAA is particularly high in people who have smoked more than 20 cigarettes a day for many years [6,7,8].
The risk factors for AAA development are not strictly identical to the risk factors for rupture [9]. The risk factors for AAA development are male gender, active smoking, or smoking in the past, hypertension, inflammation of the aortic wall, and atherosclerosis. The risk factors for AAA rupture are female gender, mean arterial blood pressure, active smoking, or smoking in the past, reduced forced expiratory volume in one second (FEV1), and aneurysm diameter above 5.0 cm [9]. Attention should be paid not only to the treatment of the classic risk factors such as hypertension and hyperlipidaemia, but also to the monitoring of selected biomarkers.
Biomarkers such as white blood cell count, fibrinogen, D-dimer, troponin T, N-terminal pro-brain natriuretic peptide, and C-reactive protein can also be helpful in AAA risk assessment. These biomarkers are an early signal of the development of inflammation and oxidative stress. These changes impair the normal function of the vascular wall, which may promote the development of aneurysms in the future. The Atherosclerosis Risk in Communities (ARIC) study showed that higher concentrations of these biomarkers were associated with an increased risk of AAA [10].
Pathophysiology
The aorta is an elastic type of artery, made up of three layers (internal, medial, and external), whose structure changes in its different parts. The middle layer of the aorta, which is the thickest, is formed by elastic fibres and vascular smooth muscle cells. There are more layers of elastic fibres in the thoracic section and their number decreases in the abdominal section of the aorta. This difference in aorta wall structure is one of the reasons why aneurysms are most common in the abdominal part of the aorta. The aortic wall in elderly people is characterised by thinning, impairment of vascular endothelial function, and reduction of elastin fibres. These changes cause dilatation of the aortic lumen and may lead to the formation of aneurysms [11].
In addition to the dimension from which the risk of AAA rupture is predicted, other parameters such as the distribution of vascular wall tension, degree of asymmetry, presence of intraluminal thrombus, and expansion rate are also important [12].
Screening programmes
AAAs remain asymptomatic for many years. They are four to six times more common in men than in women and the risk of the disease increases after 60 years of age; women develop the condition approximately 10 years later than men [8]. The prevalence of AAAs is higher in first degree relatives compared to the general population, regardless of sex and, for this reason, an abdominal ultrasound is recommended in siblings of AAA patients [13,14]. Among 379 screened siblings, AAAs were found in 14% (Norrbotten county) and 17% of brothers (Stockholm county); the prevalence among sisters was 6% in both regions [14]. Factors associated with increased risk of AAAs among siblings were male sex and age >65 years; smoking was not statistically significant as a risk factor in these groups [14].
AAAs are discovered as a pulsatile abdominal mass on routine physical examination or as an incidental finding on ultrasonography, abdominal computed tomography, or magnetic resonance imaging performed for other purposes [8]. Expanding AAAs may become painful and lead to pulsating sensations in the abdomen or pain in the chest, lower back, and scrotum. The majority of AAAs are asymptomatic for patients and are detected accidentally. For these reasons, screening tests are of some importance in the diagnosis of AAAs.
The first screening programmes were dedicated to older men who smoked cigarettes and had high blood pressure. In the following years, screening programmes for older women were also conducted.
The largest screening programmes concerning AAAs are the Multicentre Aneurysm Screening Study (MASS) (n = 67,800) [15], the Viborg County, Denmark, screening trial (n = 12,639) [16], the Chichester, United Kingdom, screening trial (n = 15,382) [17], the Western Australia screening trial (n = 38,480) [18], and the Regional Veterans Affairs Health Care System (n = 6,142) screening programme [19].
The prevalence of AAAs among males in screening programmes ranged from 4.0% to 7.6% and most detected aneurysms were small (≤4 to 4.5 cm). Only 0.3% to 0.6% of screened patients had AAAs measuring 5.5 cm or larger in diameter [19]. The Viborg trial [16] and the Western Australia trial [18] analysed mortality in men undergoing screening depending on the age at which the screening was performed. In the Viborg trial, mortality risk reduction was similar for men aged 64 - 65 years versus 66 - 73 years. Similarly, in the Western Australia trial, the mortality rate in men screened aged 65 - 74 years versus men aged 64 - 83 years was similar [19]. The Chichester trial [17} also included the screening of women aged 65 to 80 years and found a low prevalence of AAAs in this population. Aneurysms were detected in 1.3% of the women examined; the diameter in 75% of cases ranged from 3.0 cm to 3.9 cm. Rupture rates among men and women were 0.2% in both groups. Invitation to screening results in reduced mortality – it has been calculated that inviting 305 men to screen prevents one death due to AAA rupture. It has also been calculated that inviting 1,000 men to participate in a screening ultrasound of the abdomen prevents two emergency surgeries due to a ruptured aneurysm.
Based on the analysis of the results of the screening programmes published in 2019, the December guidelines of the US Preventive Services Task Force do not recommend routine screening for men and women who have never smoked cigarettes [20].
In men aged 65 to 75 who have smoked cigarettes, a single screening test is recommended; in women from the same group a screening test may be considered.
The performance of follow-up examinations in patients diagnosed with small AAAs (diameter <5.5 cm) was analysed by Bown et al [21]. The authors included in the analyses 18 studies containing records from 15,471 patients (13,728 men and 1,743 women). The majority of small AAAs grow slowly, but there is substantial variation in growth rates between different individuals. The average growth of small 3.0 cm AAAs in men was 1.28 mm per year, whereas the average annual growth of larger aneurysms (with a diameter of 5.0 cm) was 3.61 mm; smokers have a higher growth rate. Among women, the rupture risk for all AAA sizes was fourfold greater than in men.
Conclusions
Prevention of AAAs should be of the utmost importance because potential drug therapies for aortic aneurysms are still in the clinical trial phase [22]. We can achieve the prophylactic goal by careful monitoring and treatment of cardiovascular risk factors. This strategy can be extended to older persons (especially for older men who smoke cigarettes) with a screening test, i.e., abdominal ultrasonography. The golden rule that "prevention is better than cure" works extremely well in relation to the natural history of AAAs.