Keywords: smartphone applications, hypertension management, home blood pressure monitoring, mobile health, telemonitoring
Arterial hypertension and the need for new management strategies
Despite the constant evolution of cardiovascular therapies, arterial hypertension still represents a critical issue for public health worldwide, with an unacceptable toll in terms of prevalence (1 billion people) and adverse consequences, including deaths (10.7 million deaths in 2015) and disability (211.8 million disability-adjusted-years in 2015) [1].
Scientific societies have indicated that three main factors are responsible for this as yet unsatisfactory control of hypertension and of its complications: 1) the low adherence to treatment of patients with chronic conditions, 2) physicians' inertia in adapting to changes in the clinical conditions of their patients and to implementing updated indications provided by new guidelines, and 3) deficiencies of healthcare systems in approaching chronic diseases.
A number of recent studies have suggested that electronic (or digital) health, the so-called "eHealth" tools, might be the perfect candidate to help to overcome these as yet unresolved problems. A simple and popular definition of eHealth is "the use of information and communication technologies (ICT) for health" [2]. This rapidly developing field has opened a wide scenario of possible interventions to improve the prevention, management and treatment of hypertension as well as of its consequences and to reduce cardiovascular risk in general.
Initial implementation of eHealth: telemonitoring of blood pressure
At first, the attention of physicians and researchers focused on an implementation of eHealth strategies that could be easy and feasible, even with limited tools. In previous years, home blood pressure monitoring (HBPM) had proven to be an effective hypertension management strategy through a promotion among patients of empowerment and awareness of this condition [3]. The adoption of new ICT for reporting of HBP self-measured values created the concept of remote BP monitoring, or telemonitoring [4-6]. In subsequent studies, this new strategy was shown to be effective in reducing BP values and in fighting both physicians' inertia and patients' poor adherence to treatment [4].
In 2013, a large meta-analysis [4] summarised the available evidence on treatment strategies for hypertension based on HBP telemonitoring technology, evaluating its cost-effectiveness through a large array of outcomes. At a mean follow-up of six months, 7,037 patients from 23 randomised controlled trials showed a greater reduction in systolic office and 24-hour ambulatory BP with HBP telemonitoring, compared to standard care, based on regular in-office measurements (with a mean difference between the BP reductions obtained through these two approaches of 4.7 mmHg and 3.5 mmHg for office and ambulatory BP, respectively; p<0.001 for both). At the same time, telemonitoring-based management strategies resulted in being more expensive than standard care (+662.92 euros per patient). However, the increase in costs consisted only in system installation and maintenance expenses, while there were no differences related to costs of pharmacological treatment.
The largest meta-analysis on the topic [5], with 13,875 patients, found similar results, as telemonitoring-assisted management strategies achieved a reduction of 3.99/1.99 mmHg for systolic/diastolic office BP, compared to usual care, and a higher rate of BP normalisation (Figure 1). In addition, multimodal integrated interventions (i.e., counselling, behavioural interventions, education, drug management, adherence monitoring) were associated with even better outcomes (-2.44/1.12 mmHg for systolic/diastolic BP, compared to telemonitoring alone), as also outlined in another meta-analysis (Figure 2) [6].
Figure 1. Impact of self-monitoring of blood pressure on blood pressure normalisation, compared to standard routine in-office measurement. From [5], with permission.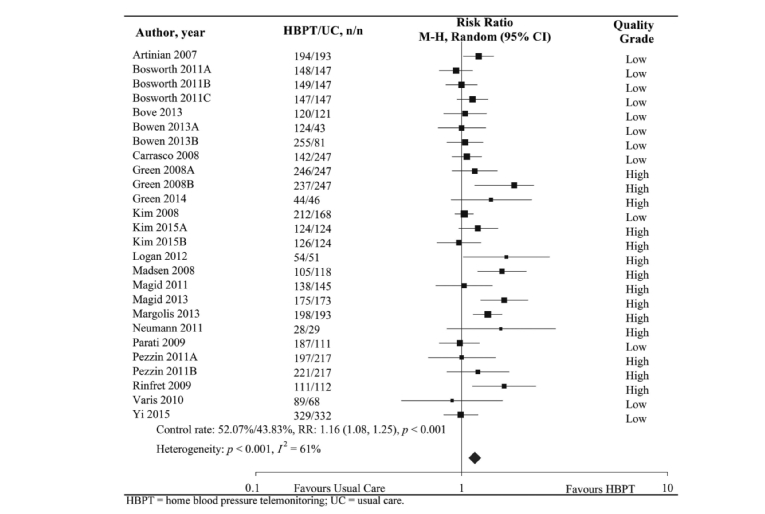 Figure 2. Impact of self-monitoring of blood pressure on the relative risk of uncontrolled blood pressure values at 12 months, in different subgroups of co-interventions. Adapted from [6] Licensed under Creative Commons (https://creativecommons.org/licenses/by/4.0/).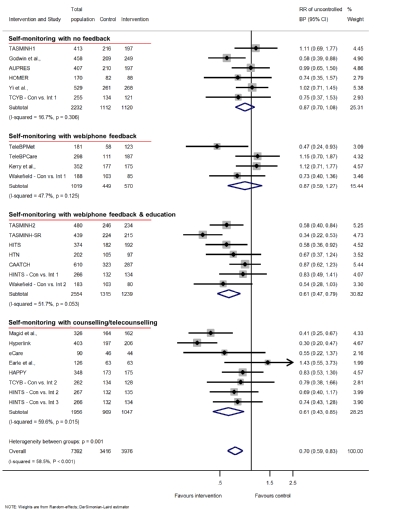 BP: blood pressure; CI: confidence interval; RR: relative risk
However, such an approach would require costly and often non-reimbursed subscription to services offered by an eHealth provider. Recent data have, however, been quite controversial on the achieved outcome, as shown in studies such as the Telescot and the TASMINH4 trials.
The Telescot trial [7] was a Scottish programme which comprised seven studies on the implementation of telemonitoring in a primary care setting for the long-term management of widespread chronic diseases such as hypertension and diabetes. The global analysis of the results showed a high approval rate by patients, who found the new strategy both empowering and convenient. After an initial increase in surveillance, physicians also judged telemonitoring positively; however, some of them expressed criticism on specific software aspects, which may represent barriers to a widespread adoption of telemonitoring in the routine of daily care.
In the TASMINH4 trial, telemonitoring, even with simple short message text-based communications, proved to be effective in reducing hypertension compared to a usual care group, but the improvement in efficacy compared to traditional HBPM was weak [8]. This trial randomised 1,182 patients either to HBP telemonitoring, conventional HBPM, or usual care. The study showed that HBP telemonitoring allowed a faster reduction in BP than conventional self-BP monitoring strategies, with a significant decrease of BP values at six months. However, this difference was no longer significant at one year. No differences in adherence to drug therapy were detected (but a high risk of bias existed, due to adherence values >95% in all groups). In conclusion, HBP telemonitoring allowed a fast reaction to changes in the clinical conditions of the patients. Advantages over the long term were less marked, but the implementation of new modalities of monitoring and support in a real-world setting (with larger population and lower treatment adherence) may allow the detection of additional benefits.
A new perspective of telephone-assisted monitoring: mHealth
Despite the overall positive results of clinical trials, this technology struggled for acceptance in real-world clinical practice, mainly due to high installation and maintenance costs, or due to difficulties in implementation.
In recent years, the widespread diffusion of smartphones and tablets has radically changed the concept of telemonitoring of patients' data, due to the increasing availability of "ad hoc" mobile health tools. Indeed, the first innovation in this field involved patient data telemonitoring: mobile phones represented cheap alternatives to the expensive, dedicated provider-managed devices that had been used up to that moment for communications and transmission of data between patients and physicians, through phone calls or text messages [9]. Thanks to these newer mHealth tools, implementation and maintenance costs dropped, and remote monitoring became a feasible strategy even in daily care.
However, further and even more relevant innovation came with the new computing capabilities of smartphones, which, through the development of specific applications, turned into real healthcare tools, adding a wide array of new features to eHealth and opening new perspectives of disease management, way beyond simple remote monitoring.
The new term mHealth (mobile health) describes this novel iteration of eHealth available nowadays to physicians and to the general population worldwide. Main examples relate to the daily management of chronic diseases, such as arterial hypertension [10].
The main advantages of mHealth for the management of arterial hypertension can be listed as follows [11]:
Availability: mHealth solutions can reach any patients, anywhere, at any time, provided there is a telephone or internet connection available. Patients and physicians can always be in contact despite spacial and temporal boundaries, exchanging health-related data, information and treatment recommendations.
Reactivity: remote transmission of health-related data and BP values allows timely reaction of the physician to evolving clinical conditions. This feature may specifically counteract physicians' inertia, as stated in previous sections. In case of need, the physician may ask for additional on-demand measurements, intensive monitoring and periodic feedback from the patient. All these treatment measures would hardly be possible with usual care, given that they might be feasible only at the cost of great effort by the physician, in terms of additional in-office visits.
Up-scalability: solutions that proved to be effective in limited experiences (both in terms of geographically or socially limited realities, or in limited timeframes) can easily be employed in larger realities with little effort, both in terms of time and money, as the expansion only requires the implementation of new infrastructures, or the potentiation of the existing ones. Both research and clinical care could benefit from these developments. On the one hand, large studies may be easier to perform and population-level data (the so-called "big data") may be easily gathered and analysed in ad hoc databases. On the other hand, clinical care may benefit from this innovation, in the setting both of developing countries, which may be trying to improve access to health care in conditions often made even more difficult by geographical barriers, and of developed countries, which may be looking for strategies to reduce health-related costs and improve the cost-effectiveness of therapeutic strategies.
Economy: thanks to the recent, widespread growth of the smartphone market (and of mobile devices in general), the implementation of mHealth services has become significantly cheaper than in previous years, as there is no need for dedicated (and therefore expensive) devices anymore. Virtually any smartphone, tablet or smartwatch can be seamlessly turned into a medical device, just by the addition of dedicated applications, widely available through digital stores. Moreover, as previously stated, financial advantages may also be clear at a population level, with reduced health-related public costs and more cost-effective strategies.
Modularity: mobile devices are now equipped with a wide array of sensors, which can be used to monitor several variables, such as heart rate, sleep, blood oxygen saturation and physical activity. Moreover, these devices are capable of connecting to several other accessories through standard and widely adopted connection protocols (e.g., smartbands for heart rate). On the one hand, this allows an easy expansion of smartphones, adding almost limitless functions through accessories. On the other hand, the connection to a mobile device capable of internet connection, such as a tablet or a smartphone, is able to turn any medical device into a "smart" tool, and to integrate its data into wider databases or registries.
Education: through dedicated, updated and targeted sections, apps may be able to drive selected information to patients, in order to improve their knowledge on their clinical conditions and cardiovascular risk factors, and to improve self-awareness and promote active participation in the therapeutic process.
Thus, mHealth may help patients to adopt and maintain a healthy lifestyle, improving their adherence to drug therapy, and improving self-consciousness of their condition, thus favouring both primary prevention and hypertension management [11-13].
So far, the available evidence on mHealth-based interventions has been rather weak. In 2015, the American Heart Association issued a statement on the use of health-related mobile applications for cardiovascular prevention, addressing the management of several risk factors, including hypertension [14]. The authors concluded that, despite the promising results of individual studies, it was not possible to draw strong conclusions, due to high heterogeneity of data, both in terms of the type of intervention, outcomes and follow-up length.
Drawbacks of eHealth and mHealth-guided management of hypertension
Besides the aforementioned benefits, there are some potential threats, or drawbacks, that need to be taken into account when dealing with mHealth solutions [11].
Privacy and data security
Sensitive data are valuable, and health-related information represents the highest level of sensitive data. There is a strong need for security, as shown by the recent scandals related to privacy issues on social media, and the subsequent new laws of the European Community on privacy matters. Attention to this topic is rising among the general population, but the levels of security in this regard are still insufficient.
Accuracy of the scientific content
The accuracy of the scientific content of the services is another crucial section. As smartphone applications have extended the possibilities of mHealth beyond the traditional role of telemonitoring, they have also started acting as an educational tool for patients, and a decisional tool for physicians (especially with the elaboration of patients' data through automated algorithms). Therefore, the accuracy of scientific content is a key point, and should be a major issue to be assessed when reviewing applications. However, as applications are usually produced by third-party companies, with no supervision by scientific societies, the reported information needs to be timely and carefully re-evaluated. A possible solution could be the official development or endorsement of applications by scientific societies or acknowledged groups or experts. Indeed, reliability of scientific information is not among the evaluation criteria for applications in the app stores and has no role in determining either their rating or their popularity. The lack of regulation and standardisation is indeed a well-known problem. In 2015 the US Food & Drug Administration (FDA) tried to address this problem releasing guidance recommendations for the developers and distributors of health-related apps [15].
Strong evidence on the real efficacy of health-related applications
This is still missing; there is a strong need for large, randomised clinical trials in this field. So far, strong evidence is available only for conventional telemonitoring of self-measured HBP values which, however, now appears to represent a limited, and quite outdated, approach, considering the potential of current devices as well as of the related fast development in ICT.
Aside from these major elements, there are some other issues that may affect application of mHealth tools in daily practice, and which therefore need to be recognised [11].
First, it has to be considered that, even though smartphones are relatively cheap, some dedicated devices and software may still be expensive, both in terms of equipment purchase and maintenance and in terms of the training of physicians. The costs may not be merely financial but may also relate to the amount of time required for the physicians to become proficient with new devices or systems. This could be particularly important for older generations and the so-called "non-digital natives", who may struggle with the first attempts, and eventually give up.
Another significant limitation is the risk of bias. In particular, a recent study [16] showed a high end-digit preference for "zero" BP readings, or for values just below the alarm threshold, in patients using texted BP telemonitoring compared to automated transmission. Globally, the proportion of affected measurements was relatively small and unlikely to impact on real clinical decisions. This phenomenon could also involve traditional BP measurements, but it is still noteworthy, as a marker of all the possible biases (either manifest or occult) that may affect clinical practice: they may be non-significant when considered separately, but their global impact on the outcome of healthcare strategies may be significant, and yet pass unnoticed, especially when patients are not supervised. Automatic transmission of detected values to the physician may easily solve this issue.
Finally, even more advanced systems still depend on traditional, old-fashioned BP measurement. Therefore, their performance is good as long as that simple procedure is reliable. Validated BP measuring devices and attention to methodology are still the mainstay of every strategy for better hypertension management in this field.
Conclusions
mHealth tools, and in particular mobile telephones, represent a great opportunity to improve the outcomes of arterial hypertension treatment. These new, integrated strategies may help to prevent some of the major limitations of current therapeutic strategies, i.e., low patient adherence to treatment, physicians' inertia, and unsuccessful communication between patients and healthcare personnel. Remote monitoring of BP accompanied by the education of patients has proved to be an effective management strategy. However, there is still a need for better definition of the subpopulations and the specific settings in which it is more effective, as available studies have shown some variability in the results. The new generation of mobile devices, through dedicated applications, has paved the way for novel applications of ICT in this setting, such as the monitoring of multiple physiological and behavioural variables, decision making and the education of patients. However, there is a strong need for better safety and security control of health-related applications. Moreover, additional large randomised controlled trials, with longer follow-up, are needed to gather more evidence on this topic and make stronger recommendations on the employment of these new tools in daily care.