EACVI Compendium
Specialists from all cardiaovascular imaging modalities have joined their expertise to create a compilation of recommendations and expert consensus statements. This Compendium guides the practice of cardiovascular imaging to provide the best healthcare experience.
The compendium gathers documents published in the European Heart Journal - Cardiovascular Imaging including the most recent expert consensus papers.
EACVI Compendium 2022
Order your hard copy of the EACVI Compendium 2022
EACVI Compendium 2021
Order your hard copy of the EACVI Compendium 2021
EACVI Compendium 2020
Order your hard copy of the EACVI Compendium 2020
EACVI Abridged Recommendations
The EACVI Abridged Recommendations are available on our free mobile app.
Download the EACVI Mobile App - It's free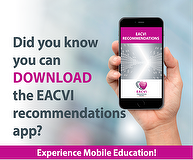 Available on the App Store. Download it
Android App on Google Play. Download it
The App includes 10 abridged recommendations issued by the Association, available in English.
Several titles are also available in Chinese (4), French (4), Japanese (3), Portuguese (6), Spanish (3) and Turkish (7).
Arrhythmogenic cardiomyopathy (2017)
Full version "Comprehensive multi-modality imaging approach in arrhythmogenic cardiomyopathy (AC) – an EACVI expert consensus document" (2017) available in "Library"
Hypertrophic Cardiomyopathy by Multimodality Imaging (2015)
Multimodality imaging in pericardial disease (2014)
Recommendations for Transoesophageal Echocardiography: 2014 update (2014)
Complications of Radiotherapy in Adults (2013)
Transcatheter Interventions (2011)
Aortic and pulmonary regurgitation - Valvular regurgitation (2010)
Mitral and tricuspid regurgitation - Valvular regurgitation (2010)
Echocardiography in infective endocarditis (2010)
Diastolic Function (2009)
Full updated version "Recommendations for the Evaluation of Left Ventricular Diastolic Function by Echocardiography" (2016) available in "Library"
Also available in the App (abridged version not available yet):
Full version "Recommendations for Cardiac Chamber Quantification by Echocardiography in Adults" (2015) available in "Library"