Description
49 years old man who presented at the outpatient clinic for a regular check-up.
He was asymptomatic, smoker, without any comorbidities and with a familial history free from cardiovascular events.
The physical examination revealed normal cardiac sounds plus a diastolic murmur at the basis of the heart, arterial blood pressure 130/70mmHg and heart rate of 64 beats per minute.
The electrocardiogram revealed normal sinus rhythm with no repolarization abnormalities.
Subsequently, the patient underwent transthoracic echocardiography examination.
Clinical case information
PLAX views
The PLAX image Showed slightly dilated left ventricle with normal systolic function (LVEDD 63mm, LVESD 41mm, FS 36%, EF 60%) severe dilatation of ascending aorta and aortic root (63mm) resulted in eccentric aortic regurgitation
PLAX view, Mild left ventricular dilatation with normal systolic function without wall motion abnormalities. Aortic root and ascending aorta dilatation.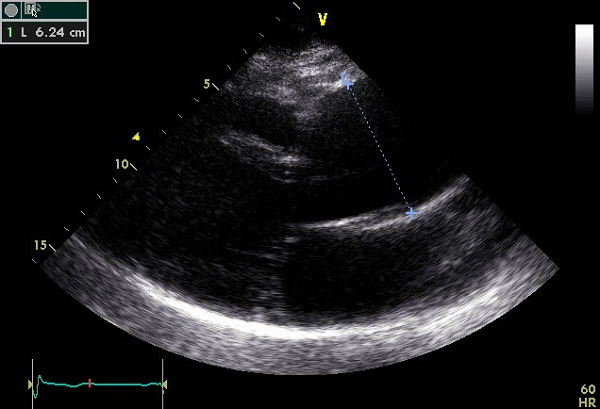 2D - PLAX view. Aortic root dilatation.
Thus, more advanced techniques as proximal isovelocity surface area (PISA), were needed for the precise evaluation of the regurgitation due to its eccentricity (regurgitant volume 40-45ml).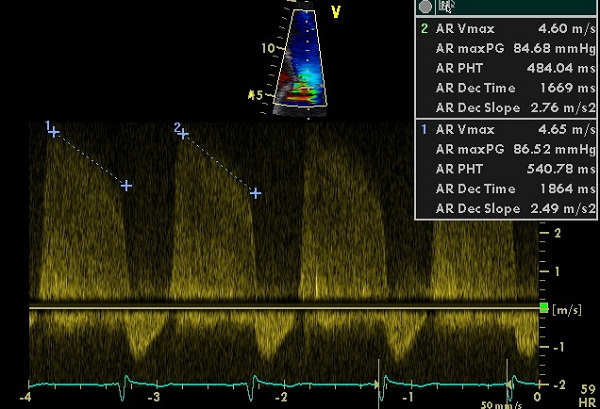 A5C and Continuous Wave Doppler view for the assessment of aortic regurgitation Pressure Half Time (PHT).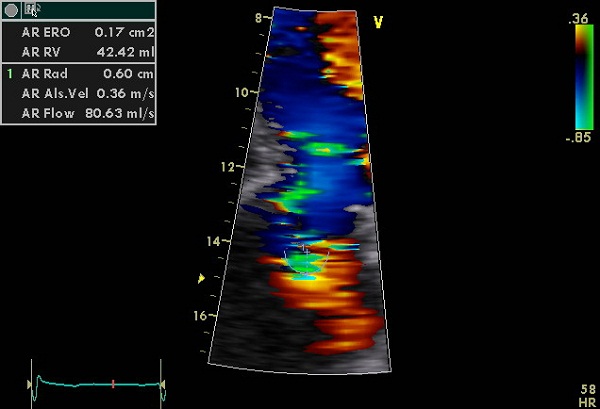 A5C view and PISA method for the assessment of effective regurgitant orifice area and regurgitant volume


PLAX
A3C


A5C and Colour Doppler views. Eccentric moderate to severe aortic regurgitation misevaluated by the jet area.


A5C and colour Doppler view following technical parameters adjustments in order to perform PISA method
Conclusion
Finally, aortic aneurysm accompanied by a moderate to severe eccentric aortic regurgitation was diagnosed and the patient was referred to a cardio surgeon for a combined surgery of aorta and aortic valve replacement.