Definition
Cardiac tumors represent a heterogeneous group, potentially involving any of the heart structures.
Secondary malignancies (metastatic) are the most frequent, with a 20 – 40 times higher incidence than primary tumors. Primary cardiac tumors have an incidence of 0.02% in autopsy series, seventy five percent of them being benign [1]. The frequency and type of cardiac tumors varies among age groups and are different in adults compared to children[2].
Depending on location and morphology, cardiac tumors can produce four types of clinical manifestations:
Systemic – constitutional (fever, arthralgias, weight loss, fatigue) and paraneoplastic syndromes (primary cardiac tumors).
Embolic – pulmonary and/or systemic by tumor/thrombo emboli.
Cardiac – mass effect interfering with myocardial function, blood flow, electric impulse formation and conduction, pericardial fluid dynamics.
Secondary to metastatic disease of a primary malignant cardiac tumor – manifestations depending on site of metastasis[3].
Role of echocardiography (transthoracic and transesophageal) in the work-up of cardiac tumors:
Diagnosis - usually first line imaging tool. Based on location, appearance and extension and correlated with the clinical findings can discriminate between primary - secondary and benign - malignant.
Treatment – together with complementary imaging modalities (CT, CMR, PET) gives information on extension and resecability, and plays a critical role in the follow up process.
Newer techniques like contrast echocardiography and real – time three dimensional echocardiography can increase diagnostic accuracy by giving information on tumor blood supply, composition and relationship to nearby structures[4] [5].
Primary cardiac tumors
Benign Cardiac tumors
Myxoma
Figure 1. 3D Transesophageal echocardiography showing a left atrial myxoma typically inserted at the level of fosa ovalis and protruding into the left ventricular inflow in diastole. [Courtesy of Dr. Ovidiu Chioncel]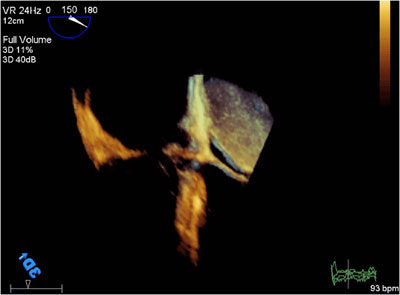 Myxomas are the most common benign cardiac tumors (50%) and usually affect middle-aged women [4].
Most cases are sporadic, with familial myxomas, also known as "syndrome myxoma" or "Carney complex", being rare (10%). This syndrome is characterised by multiple, recurrent cardiac myxomas at younger age, associated with spotty skin pigmentation and endocrine overreactivity [2].
Clinical manifestations of myxomas consist in a triad: constitutional symptoms, embolization and intracardiac obstruction.
Location – left atrium (75%), right atrium (23%), rarely in the ventricles; usually connected to the atrial septum (fosa ovalis) by a narrow stalk; depiction of site and type of tumor attachment is important when differentiating from thrombus [1].
They have variable features on echocardiography – globular, smooth – surfaced or irregular, friable surface with multilobular appearance, 4 to 8 cm in size, heterogeneous echogenicity with areas of echolucency and sometimes calcifications.
Myxomas have variable mobility depending on size and narrow/broad implantation stalk. Usually, they protrude into the ventricles through the mitral or tricuspid valves in diastole. Diastolic filling impairment can be assessed by color Doppler imaging and further quantified by continuous Doppler trace analysis, showing signs of mitral/tricuspid stenosis [4].
Transesophageal echocardiography may be needed to better visualize the implantation site and the potential extension into the pulmonary or caval veins [1].
Myxomas have a poor blood supply, with partial and lower than normal myocardium enhancement on contrast echocardiography [6].
After surgery – echocardiography should document the complete tumor resection and should be performed as follow up, considering the risk of recurrence [4].
Lipoma and lipomatous hypertrophy of atrial septum
Lipomas are the second most common benign cardiac tumors (10-20%). They represent encapsulated fatty accumulations, are variable in size and usually asymptomatic. Sometimes they may cause symptoms related to compression, arrhythmias and conduction abnormalities[2].
Location – anywhere in the heart, most frequently in the left ventricle, right atrium, and atrial septum. They arise most commonly in the subepicardium and subendocardium, but intamyocardial lipomas have also been described. Subepicardial lipomas often grow into the pericardial space resulting in effusions and subendocardial lipomas might protrude in the cardiac chambers, interfering with blood flow.
On echocardiography they present as well demarcated, homogeneous, broad based masses (not diagnostic). Their appearance varies with location: in the pericardial space they arise from the epicardium and are hypoechogenic, while intracavitary lipomas are hyperechogenic[1][2].
Cardiac CT and MRI are the best imaging tools for diagnosing cardiac lipomas as they identify fat with high specificity.
Lipomas have the tendency to grow and periodic echocardiography should be performed. These tumors should be surgically excised when symptomatic [4].
Lipomatous hypertrophy of the atrial septum is a benign cardiac mass resulting from fatty infiltration of the atrial septum. Its described incidence on echocardiographic studies is 8% and, typically, is associated with increasing age and obesity.
On echocardiography, the lipomatous hypertrophy of the atrial septum has a characteristic appearance with massive, hyperechogenic, thickening of the atrial septum that spares the fossa ovalis, taking a "dumbbell" or "hourglass" shape.
Differentiation between this benign lesion and other cardiac tumors involving the atrial septum, particularly malignant, is critical as it could avoid unnecessary surgery[7].
Papillary fibroelastoma
Figure 2. Transesophageal echocardiography showing a solitary mitral valve fibroelastoma. [Courtesy of Dr. Ovidiu Chioncel]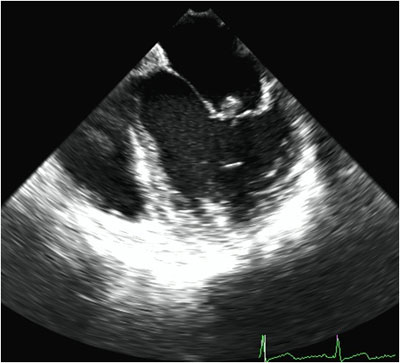 Papillary fibroelastomas are the most frequent tumors involving the heart valves. They account for approximately 8% of primary benign cardiac tumors and are usually encountered in older ages. Due to their embolic potential, papillary fibroelastomas (particularly left-sided) should be considered for resection even if asymptomatic [3].
Location – aortic and mitral valves, less often, tricuspid and pulmonary valves or mural endocardium. Different from vegetations, papillary fibroelastomas are located on the downstream side of the valve and rarely cause valvular dysfunction [4].
Echocardiographic appearance – small (< 1 cm), pedunculated by a small stalk, highly mobile structures.
Due to the need for differential diagnosis with vegetations, thrombi, valvular calcifications or Lamb'l excrescences, transesophageal echocardiography is often required [1].
Figure 3. 3D Transesophageal echocardiography showing two fibroelastomas involving the aortic (arrow) and mitral (asterix) valves. Note the unusually large mitral fibroelastoma originating in the posterior leaflet and extending into the subvalvular apparatus. [Courtesy of Dr. Ovidiu Chioncel]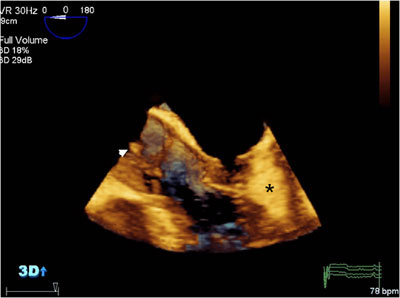 Rhabdomyoma
Rhabdomyomas are the most common primary cardiac tumors in infants and young children, approximately three thirds occurring in patients less than 1 year old. There is a strong association between cardiac rhabdomyomas and tuberous sclerosis (80%). In more than half of the patients they regress in size and number after infancy. The presence of rhabdomyomas in adulthood is uncommon[3].
Rhabdomyomas most often occur in the right and left ventricular myocardium. On echocardiography they appear as multiple, homogeneous and hyperechogenic tumors located intramurally or pedunculated, protruding into the ventricular cavity, and ranging from few mm to few cm in size.
Depending on their location and size they may induce arrhythmias or blood flow obstruction. Symptomatic rhabdomyomas bear a poor prognosis and surgery is necessary, even though complete resecability is rarely achieved due to their deep intramyocardial location [1].
Fibroma
Fibromas are the second most common primary cardiac tumors in children. In adults they account for approximately 3% of all benign cardiac tumors.
Fibromas are invariably located in the ventricular myocardium, usually in the left ventricular free wall or interventricular septum. They may mimic hypertrophic cardiomyopathy.
Fibromas appear as well circumscribed, highly echogenic, solitary tumors (different from rhabdomyomas), often extending into the ventricular cavity. Typically, their size ranges from 1 to 10 cm and have central calcifications [2].
In 70% of cases, fibromas cause symptoms by impeding intracavitary blood flow or causing ventricular arrhythmias. Given the increased risk for fatal arrhythmias and sudden death, associated with this type of tumors, surgical resection is recommended regardless symptoms [1].
Hemangioma
Hemangiomas are benign vascular tumors accounting for 2% of primary cardiac tumors. They can occur at any age and are occasionally associated with similar tumors in the gastrointestinal tract or skin. Typically, on coronary angiography they produce a "vascular blush".
Hemangiomas can occur in any cardiac chamber, but most often are located in the ventricles, growing intramurally or towards the ventricular cavity. Similarly to fibromas, they can mimic hypertrophic cardiomyopathy.
Hemangiomas appear as hyperechogenic, well demarcated masses, ranging from 1 to 8 cm in size. In 30% of cases multiple tumors are described.
In symptomatic patients radical surgical resection is indicated. Periodic echocardiography is recommended, considering the potential for tumor growth or recurrence after surgery[8].
Pericardial cyst
Pericardial cysts are the most common pericardial tumors. They present as small, rounded, echolucent masses, most often adjacent to the right atrium. Usually, pericardial cysts are asymptomatic and have an excellent prognosis, but they can grow and compress the right cardiac chambers or the surrounding mediastinal structures[4].
Malignant tumors
Malignant primary cardiac tumors are rare and typically have rapid expansion, invading several cardiac structures (myocardium, cardiac chambers and pericardium).
When a cardiac tumor with features of malignancy on echocardiography is depicted, additional imaging modalities (CT, CMR, PET) are required to characterize its intra- and extracardiac extension.
Sarcomas
Figure 4. 3D Transgastric view of the right chambers showing a giant sarcoma that obliterates the right ventricular inflow and infiltrates the tricuspid valve. Note the presence of hypoechogenic areas within the mass (asterix) compatible with intratumoral necrosis. RA, right atrium; RVOT, right ventricular outflow tract. [Courtesy of Dr. Ovidiu Chioncel]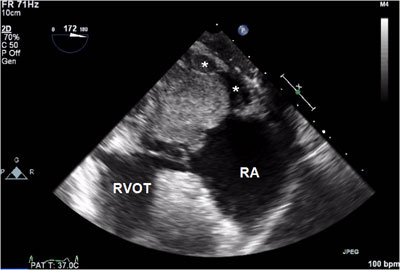 Sarcomas account for 95% of primary malignant cardiac tumors. They occur between the third and fifth decades of life, equally in both genders. Sarcomas are characteristically very aggressive, have a nonspecific clinical presentation and median survival is less than 1 year[1].
Based on characteristics on echocardiography, it's not possible to differentiate between histological subtypes of sarcomas.
There are no conclusive data supporting that histological subtype is prognostic for treatment outcome. Achievement of complete resection is the only proven factor positively influencing outcome[2].
Angiosarcoma
Angiosarcomas are the most common histological subtype, typically affecting middle-aged men. These tumors have a predilection for the right chambers, particularly for the right atrium.
Echocardiography shows, a large, broad based mass near the inferior vena cava, extending intracavitary and into the pericardium, occasionally invading the caval veins or tricuspid valve [2][5].
Rhabdomyosarcoma
Rhabdomyosarcomas represent the most frequent cardiac malignancy in infants and children.
Rhabdomyosarcomas may occur in any cardiac chamber and in 60% of cases are multiple. Similarly to angiosarcomas, these tumors grow rapidly and are invasive, often extending to the pericardium before diagnosis[3].
Other cardiac sarcomas
Other nonvascular sarcomas, including fibrosarcoma, liposarcoma, leiomyosarcoma, osteosarcoma, myxosarcoma, synovial sarcomas and undifferentiated sarcoma occur extremely rare as primary malignancies of the heart. They usually arise in the left atrium and similarly to angio- and rhabdomyosarcomas, are highly invasive and aggressive.
Lymphoma
Primary cardiac lymphomas are extremely rare, representing 5% of primary cardiac malignancies. They have increase prevalence in immunocompromised patients.
They are defined as non-Hodgkin's lymphoma located initially only in the heart or pericardium. Cardiac involvement in lymphomas is usually secondary and occurs by dissemination.
Primary cardiac lymphomas involve more often the right side of the heart and usually associate with pericardial effusion. Prognosis is poor with less than 1 month survival without treatment and up to 5 years after radio- and chemotherapy[1][5].
Pericardial mesothelioma
Primary malignant pericardial mesothelioma is extremely rare and unlike pleural and peritoneal mesotheliomas has no definite correlation with exposure to asbestos.
Echocardiographic findings are pericardial effusion, pericardial thickening or constrictive physiology. Invasion of other cardiac structures is rarely seen.
It carries a poor prognosis with little benefit from radio and chemo-therapy.
Secondary cardiac tumors
Extension to the heart is done by: haematogenous, lymphatic, direct or venous spread.
Except for melanoma (very rare) that metastasis preferentially to the heart, cardiac metastasis are found in lung, breast, ovarian, kidney, leukemia, lymphoma, esophageal cancer patients in widespread dissemination stages.
Echocardiography should be performed in all patients with a history of malignancy and cardiac symptoms.
Pelvic leiomyoma (benign), renal cell carcinoma, hepatoma and uterine leiomyosarcoma (malignant) can extend to the right cavities through inferior vena cava. This is best visualised in the subcostal view.
Cardiac metastases are predominantly located in the pericardium, with pericardial effusion being the most frequent finding.
Chemotherapy and tumor resection may alleviate symptoms and prolong survival [1][4].
Further reading
Pepi M, Evangelista A, Nihoyannopoulos P et al. on behalf of the European Association of Echocardiography Recommendations for echocardiography use in the diagnosis and management of cardiac sources of embolism 2010;11:461-476.
Galiuto L, Badano L, Fox K, Sicari R, Zamorano JL. The EAE Textbook of Echocardiography. 1st edition. Oxford, Oxford University Press;2011
Armstrong WF, Ryan T. Feigenbaum's Echocardiography. 7th edition. Philadelphia, PA:Lippincott Williams and Wilkins;2009.
Bogaert J, Dymarkovski S, Taylor A, Muthurangu V. Clinical Cardiac MRI. 2nd edition. Berlin, Springer;2012.