Cardiology is traditionally an early adopter of new technical developments for clinical applications. Towards the end of the 1960's, a number of visionaries, or to coin a colloquial term, "futurists", both in the United States and Europe embraced the then-elementary computer technologies as they believed that those machines could evolve into an important factor in cardiology. Their supposition was that cardiology, being an indubitable data-dependent medical specialism, could benefit from computer technologies by compiling this data electronically in a structured fashion.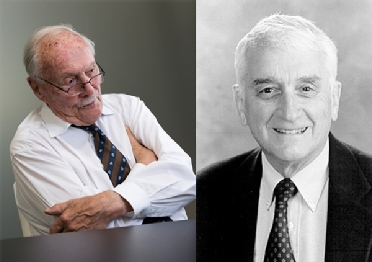 As it happened, two notable visionaries met during a flight across the Atlantic: Prof. Paul Hugenholtz, founder of the Thoraxcenter in Rotterdam, who established a novel computer department (named KEI) and Prof. Jerry Cox, of the Computer Sciences, Biomedical Computer Laboratories, of the University of Washington (Figure 1). Prof. Cox developed the AZTEC, a real-time arrhythmia analysis program for the coronary care unit, based on the LINC system (1). This system was a predecessor of what is now commonly called a bedside monitoring system. This chance encounter effected the initiation of an academic congress titled Computers in Cardiology (CinC), which is still active today.
This assembly of cardiologists with an interest in computer technologies, scientists both from academia and industry, expanded years later with the successful inception of a working group within the European Society of Cardiology (ESC) under the same name, e.g. Working Group on Computers in Cardiology, now known as the Working Group on eCardiology. We are now witnesses to an increasing digital osmosis refashioning and remodeling the world in which we live in innumerable ways. To understand today, one must consider past events, commencing in earnest between 1950-1980 with the replacement of mechanical and analogue technologies. With the advent of the 80's, the first personal computers (PC's) were introduced in the home market. Advancements in computer chip technologies, such as miniaturisation and greater processing power, created a major acceleration in adoption, both in the home and work environments. The smartphone, less than 10 years old, is a prime example of the remarkable speed of progress. The field of medicine has also been impacted by other developments such as the arrival of behemoths called Apple, Google, Facebook and Amazon, which with their capacities to store colossal amounts of data, have dominated social media consumption while revolutionizing software platforms with artificial intelligence (AI). It is demonstrably accurate to call the current digital revolution "disruptive".
The ESC has acknowledged the digital revolution by commissioning a Digital Health Committee (DHC) in 2017. The following year the DHC organised several themed symposia during the annual ESC Congress. The sessions were enthusiastically received with demand for seating outstripping availability. Luckily DH symposia during ESC Congress 2019 will be hosted across more rooms at the congress venue.
It is evident that the impact of DH in clinical practice and research will be considerable. Momentum is already starting to pick up speed so much so that a dedicated DH congress is the next logical step. The ESC has, therefore, recently announced that the first ESC Digital Summit will be held in Tallinn, Estonia on 5th and 6th October 2019. It will provide a platform for clinicians, key opinion leaders, technology entrepreneurs, pharmaceutical and medical device executives, as well as information and technology (ICT) professionals to help shape the future of cardiology with respect to the digital-revolution(2).
Besides these congress-related activities, the DHC is also launching the Digital Health Section, an innovative platform which will disseminate digital initiatives throughout the European cardiovascular clinical and scientific communities. The section will encompass news, research, and education from across the ESC community and further afield. It will be home to the Digital Health Virtual Journal advancing excellence in DH-related topics in cardiology through (meta-reviews), news, new initiatives, education and information about educational tools to improve daily cardiovascular care. The Digital Health Virtual Journal will collect articles from across the EHJ family of publications and beyond, bundling them into themed issues for readers. At a later date, the Digital Health Virtual Journal board may evaluate whether original research submissions could be incorporated into the mission and scope of this novel journal.
It is, therefore, with pride that we present the first issue of the Digital Health Virtual Journal. Artificial intelligence (AI) has been chosen as its theme by our Editorial Board because AI is a prime aspect of the digital revolution in cardiology, as evidenced by a steep increase in academic publications discussing AI-driven processes in medicine. This publication "storm" evokes the challenge and question most often asked by cardiologists: "What will this mean for my daily clinical practice?" To give context to this discussion, the Editorial Board has curated a number of excellent review papers that have been published recently in the following editorial commentary.