We live in exciting technological times. In a decade we have moved from hospitals where blood forms and radiology requests were written by hand to electronic requesting. Medical notes have begun to evolve from thick files into electronic searchable versions. Technology to help us diagnose conditions have improved. Concepts that previously seemed to belong to the world of science fiction, such as being able to see a patient's heart rhythm whilst they are at home1, are now a reality. The potential of artificial intelligence (A.I.) to aide interpretation of results and treatment decisions is becoming increasingly real2, with a whole plethora of associated benefits and potential risks.
With this exhilarating background, and an awareness of there being much more unharnessed digital potential, the Secretary of State for Health and Social Care in the United Kingdom (UK) commissioned an independent review to look at how to make the National Health Service (NHS) ready to deliver the digital future3. The chosen review lead was Dr Eric Topol, an American cardiologist, Professor of Genomics and digital medicine innovator4.
The eponymous Topol Review5 advised on how technological and other developments, such as genomics, artificial intelligence, digital medicine and robotics, were likely to change the roles and functions of clinical staff and what the implications and consequences of this were likely to be for the NHS. It was published in February 2019, and included the recommendation that the NHS should invest in their existing workforce to develop specialist digital skills. From this recommendation a decision was made to launch the Topol NHS Digital Health Fellowship.6
This was enacted with impressive speed, with the inaugural Fellowship programme being advertised shortly afterwards and officially started in September 2019 with 18 Digital Fellows.
This Digital Health Fellowship was open to a wide range of NHS staff, including doctors, nurses, pharmacists, allied health professionals and clinical scientists. Application was by a written form which included a 'pitch' of a digital health improvement project, followed by an interview via Skype for shortlisted applicants.
The Fellowship itself is very pragmatic in its design: it looks for Fellows to deliver a useful digital health improvement project whilst also allowing for concurrent ongoing clinical work, recognising that many cannot completely leave their clinical posts for a whole year. Successful candidates therefore continue their usual clinical job for part of the week and have ring-fenced time for the Fellowship for the other part of the week. This ring-fenced time is funded centrally and the Fellow's local employer is reimbursed for it. In the case of Digital Fellows who are doctors in training this split worked out to 3 days clinical and 2 days undertaking the Fellowship. In addition to this creating less of an impact on clinical service provision than a full-time Fellowship it also means that the Fellows remain in their usual clinical teams and so are well-placed to enthuse about digital transformation on an ad-hoc basis. This is likely to result in more active and wide-reaching promotion of digital transformation than if the Fellows had been segregated to a full-time cohort environment. From the point of a view as a cardiologist in training this model also has the benefit of being able to maintain clinical skills during a non-clinical Fellowship post.
The projects being undertaken by the inaugural Fellows cover a wide scope. They range from an app to help avoid unnecessary clinic attendance in diabetic patients with foot ulcers, to a project using A.I. to check the confidence of answers given by A.I. in a clinical setting, to creating online learning platforms. My project involves mapping the digital landscape of cardiology in my local region. This entails looking at how technology is currently being used and examining the basic digital infrastructure for curating information and managing patient journeys. This information will then be used to identify opportunities for improvement to help make cardiology in the region as well placed as possible to embrace the digital future.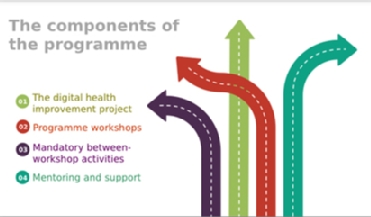 The project is the central strand of the Topol NHS Digital Fellowship and takes up the majority of the allocated time, but there are also three other strands (figure 1).
The second strand is a series of six centrally organised workshops delivered over the year. These cover topics designed to help successfully complete and implement the digital projects, and aim to inspire further digital growth and innovation. One of the key benefits of the workshops is the opportunity to interact with the other Fellows in person.
The third strand is made up of mandatory between workshop activities. An example of a between workshop activity would be assigned background reading, for example of policy papers relating to digital transformation. Other activities include preparing a blog post to share what you are doing with a wider environment and writing update reports to keep the other Fellows abreast of your progress.
The fourth strand is the provision of mentoring and support, with the programme aiming to link Fellows to those able to provide appropriate advice and guidance to help them succeed in their projects and beyond.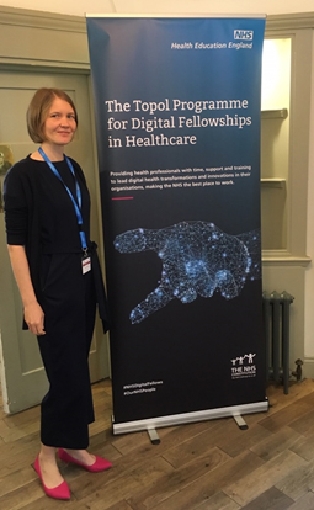 Overall, the aim of a Digital Fellowship is to support clinical staff to develop specialist digital skills, to learn about leading digital transformation, and to provide time outside of clinical commitments to allow them to lead digital health improvements and innovations.6 These Fellowships have great potential to improve patient care, and are ideal for cardiologists wishing to help optimise the use of technology in healthcare.