This article was reviewed by Kamlesh Khunti, August 2021
Clinical trials in both type 1 and type 2 diabetes have demonstrated the connection between hyperglycaemia and the complications of diabetes (1,2,3) To reduce long-term microvascular complications trials have supported reducing glycaemia levels (4, 16). The evidence on reduction of macrovascular complications is not clear (5). A singular blood glucose target for people with diabetes has not been robustly studied due to the nature of our individuality; what target is right for one person might not be right for another (4,5). There is also the difficulties and risks associated with obtaining and then maintaining tight glycaemic control (6-15).
The large cohort studies DCCT and the UKPDS could not maintain HbA1c levels in the normal (non-diabetic) range for the people enrolled into their intensive-treatment arms (2, 12, 13). However, the intensively managed UKPDS participants did demonstrate the later termed "legacy effect" gained by attaining good glycaemic control early in their diabetes journey (12, 13). The "legacy effect" describes the long-term microvascular risk reduction that continues to benefit the initially intensively managed person with diabetes for many years (16). Such people were also shown to benefit from cardiovascular (CV) relative risk reduction that can emerge later in their life (11). It stands to reason that those with longer life expectancy will benefit the most from early tight control of their glucose levels (5).
Trying to achieve near normal HbA1c levels can create risk, including hypoglycaemia. Hypoglycaemia is a prognostic marker for mortality risk (16, 17). The ACCORD study linked tight glycaemic control to CV harm (18). However, one of the issues with ACCORD was that it enrolled people with high CV risk and multi co-morbidities; such people are not representative of the large numbers of newly diagnosed patients with low CV risk who would benefit from tight control (4).
The biggest cause of mortality in people with type 2 diabetes is atherosclerotic cardiovascular disease (ASCVD) (20). We know from the UKPDS, a lowing of HbA1c by 11mmol/mol (1%) was estimated to equate to a 37% lower risk for microvascular complications (1). Studies support the view that the lower the HbA1c without hypoglycaemia, the lower the long-term risks of microvascular and CV events (1, 6).
The balance of risks to benefits should be assessed for the individual person with diabetes. The European ASD and the ADA recently updated their guidelines (2018) to reflect the options available to treat individuals with a tailored person-centred approach (5). The guidelines reflect the development of advanced treatments for diabetes that have demonstrated their CV and or renal benefits in addition to glycaemic control without causing hypoglycaemia (20-24). The guidelines also reflect other characteristics/needs that make us individuals. For example, if weight is an issue then there is a recommended treatment course, using therapies that have been shown to reduce weight. Whereas if the person is self-funding and cost is an issue then there is a different lower-cost treatment course is recommended (5).
A good example of the need to treat people with diabetes as individuals, are elderly people or those with reduced life expectancy. In these people treatment targets should be to improve quality of life and reduce symptomatic hyperglycaemia, ketoacidosis or hypoglycaemia (25, 26). The International Diabetes Federation (IDF) published a useful guide to help clinicians adjust targets to such individuals (27).
Therefore setting glycaemic targets should be done at an individual level. Trials have found the benefits of tight control, especially early on in the individual's diabetes journey, but the benefits of this compared to the risks have to be assessed for the individual.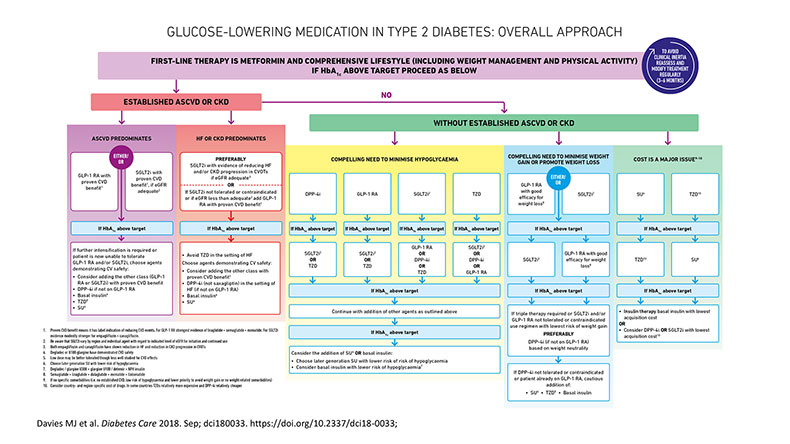 The content of this article reflects the personal opinion of the author/s and is not necessarily the official position of the European Society of Cardiology