A patient is struggling to breathe and growing increasingly anxious. "Do I have the coronavirus? Am I in atrial fibrillation?", he asks me. Normally, I would be able to answer the latter question by looking at his ECG in front of me. But these are not normal times. All of our atrial fibrillation consultations are over the phone, and I don't know the patient's heart rate or rhythm.
This is where apps can be precious. A patient's smartphone can be transformed into a rate-and- rhythm detector. Using the index finger and the phone's camera, an app can detect the pulse, then use an algorithm to identify if the patient has atrial fibrillation and whether the heart rate is fast or slow. This is exactly the information we need for teleconsultations during the COVID-19 crisis.
In my clinic, we trialled an app with patients for around one week. We quickly realised that it's very simple to explain to most patients. We can easily guide them on how to download and activate it, and then link the app to a cloud. Our atrial fibrillation outpatient teleconsultations are now much more effective. Our department secretary phones patients one week before a scheduled teleconsultation and asks them to download the app and register. She explains how to use the app and instructs patients to do three measurements per day for seven days before the teleconsultation. If the patient has symptoms, they can perform additional recordings as long as it is within the seven days.
One of the biggest mistakes when using m-health is generating vast amounts of data. It arises because when you give an m-health tool to a patient and say, "please use this to record your rhythm", they continue to use it indefinitely. But we don't need continuous rate and rhythm measurements for the 1,000 atrial fibrillation patients we see every year. Our solution was to issue m-health on prescription for seven days and embed it in our existing outpatient clinic approach by using teleconsultation, which has never been done before.
We instruct and educate our patients, "we are dependent on you as a person to make this information available for our teleconsultation". So, it's really about engagement, empowerment, involvement in care, and making the patient part of the treatment process.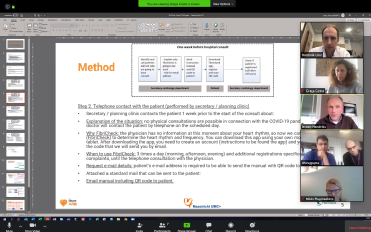 Patients love being involved in their treatment and discussing the results. Face-to-face consultations started with the patient saying, "what does my ECG show?". Now, we start with the patient saying "look, this is what I recorded during the last week, let's talk about it". This has promoted an interaction that we did not experience before. Patients also like doing the assessments during their daily life and being able to do additional measurements if they have symptoms. They believe that the data they generate better represent their rhythm and rate than a spot ECG.
Older age does not automatically exclude people, but when a patient does not have a mobile phone, we may involve the family.
The process is so simple that we decided to share it with other centres throughout Europe and set up the international and multicentre TeleCheck-AF project (For more information visit www.fibricheck.com and follow #TeleCheckAF on Twitter). In less than two weeks, we have implemented the infrastructure in 18 centres and recruited 252 patients. But this process cannot be done by doctors alone. Centres need a secretary who can contact patients to explain the process. Doctors and nurses involved in AF treatment just do the teleconsultation. Before a new centre launches, we hold a short video conference with the multidisciplinary team from their centre and ours. The assistants, cardiologists and nurses talk to each other about their role.
In Maastricht, we have now used this approach with around 100 patients. Only one patient had to come in for an ECG. Most complex scenarios are managed by asking patients to repeat the measurements for a week to check if medication changes were effective or not. Additionally, we are scheduling stable patients for a clinic visit in one year, but we tell them to call if they have problems and we can prescribe m-health again to check from afar. We are also identifying which patients most urgently need Holter monitoring so we can prioritise them for appointments after COVID.
We use FibriCheck, which is a CE marked and validated app connected to a cloud to detect atrial fibrillation and monitor heart rate. The advantage of an app-based approach is that just a mobile phone is needed, which makes our approach feasible in a large number of people during COVID-19. AliveCor, MyDiagnostick or others are CE marked and validated as well, but require additional hardware and devices, which is complicated to distribute during COVID-19.
Cardiologists around the world are experiencing the same challenges during COVID. During this pandemic we have been able to test out new processes much quicker than usual. What we learn now should help us after the emergency is over.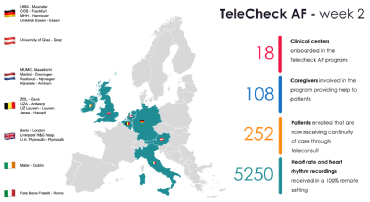 Within the TeleCheck-AF project , which I initiated together with Nikki Pluymaekers (Maastricht University Medical Centre) and Jeroen Hendriks (Flinders University in Adelaide), we are planning to collect data from all the included centres prescribing this m-health intervention and conduct a retrospective analysis. We hope to generate evidence to show that m-health on prescription reduces the number of face-to-face consultations and is cost-effective, as well as empowering patients. COVID-19 will change the way we work forever.
Access more COVID-19 resources and stories from the front lines