This yearly meeting aims to bring together established cardiologists, students and interns in cardiology from all over Czech and Slovak Republic to share their recent medical advances and clinical concerns.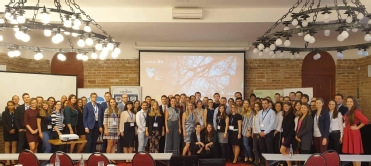 120 persons attended this 2019 edition of the meeting. Various lectures were held, including those of the President and Emeritus President of the Czech Society of Cardiology, Prof. Linhart, Prof. Taborsky and Prof. Kautzner, who together have co-founded this international meeting. Special feature this year, was on the clinical facts of cardiogenetics. Dr. Novotny, Head physician of specialised ambulance for arrhytmogenic congenital diseases, discussed some new facts with special foreign guest, Dr. Meli (Montpellier), nucleus member of the Scientists of Tomorrow.
Other topics included interventional cardiology, cardiac imaging, cardiovascular surgery and interactive sessions, such as the most popular ECG quiz. The first day ended with a social evening. The feedback from participants was very positive.
The program can be consulted here.
The next meeting will be held in 2020 in Slovakia.