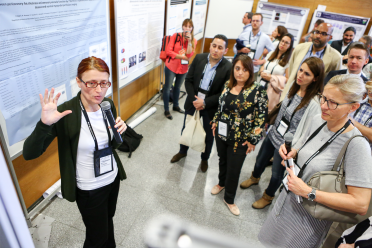 Be acknowledged as an active contributor in your field of expertise!
Discuss your findings and engage with fellow researchers, key opinion leaders, potential co-investigators and mentors in your field.
Be published in the European Heart Journal - Cardiovascular Imaging, the online supplement.
The call for abstracts is now open.
Submission deadline is Thursday 18 January 2024, 12:00 noon CET. Don't wait until the last minute.
You will be asked to log in to your My ESC account
Mark your calendar with key dates
Tuesday, 21 November 2023 - Opening abstract submissions
Thursday, 18 January 2024 – 12:00 noon CET - Abstract submission deadline
End of February 2024 - Abstract results announcement online. An email will also be sent to each submitter.
Prepare your submission
Presentation formats
All presenters will be required to present their research onsite in Seville.
Selected abstracts will be assigned to different presentation formats:
Young Investigator Award Session (YIA)
The YIA session will be held onsite chaired by senior faculty members.
Each finalist will present the key points of his/her research followed by a Questions & Answers period led by a panel of experts who will judge the presentations and determine the winner and runners-up.
Submit in this category to benefit from:

Award Certificate
Prizes: first prize winner (€500), 2nd runner up (€300) and 3rd runner-up (€200)
Free registration for ICNC-CT 2024

Conditions:

Your abstract(s) must be accepted at ICNC-CT 2024 in the Young Investigators Award Session
You must be the presenter of your abstract(s)
You must be under 40 years old

Selection process: the selection committee will review the final top scoring abstracts to appoint the finalists. The selected abstracts will be presented to a jury in a dedicated session including a questions and answers section
Abstracts not selected for the YIA session will be automatically considered for other oral presentation or paper poster presentation.
Rapid Fire Oral Abstract sessions
The highest graded abstracts will be selected to be presented orally during the rapid-fire abstract sessions which will be held onsite moderated by senior faculty members.
Moderated ePosters
Abstracts selected for presentation in a Moderated ePosters session will be presented orally in a dedicated area and will be moderated by senior faculty members.
Paper Posters
Abstracts selected as paper Posters will be displayed in a dedicated area onsite.