ESC Advocacy is actively involving cities to take concrete steps to tackle cardiovascular diseases (CVD) in urban areas, while raising heart health on the political agenda.
About the event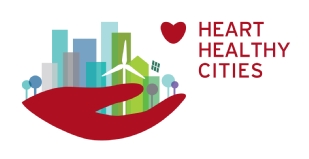 During ESC Congress 2019 together with World Congress of Cardiology, the ESC, in partnership with the French Society of Cardiology and the City of Paris, organised the first Heart Healthy Cities Round Table.
In consideration of growing urban populations worldwide, together with increasing evidence linking air/noise pollution and lifestyle to CVD, ESC Advocacy wants to ensure that concrete steps are taken to tackle heart disease in urban areas.
The ESC is engaged in a constant dialogue with local, national and EU decision-makers to promote evidence-based policies which support cardiovascular health and ensure access to the best care for all citizens.
The Heart Healthy Cities Round Table is bringing together scientists and city representatives to raise awareness, while identifying and supporting implementation of effective measures to promote healthier urban environments.
Our intention is for the Heart Healthy Cities initiative to become a rolling event that takes place annually during ESC Congress.
Programme
Time
Activity
14:00
Welcome and introduction

Ms. Anne Souyris, Deputy Mayor of Paris
Prof. Lina Badimon, Advocacy Chair, European Society of Cardiology
Prof. Martine Gilard, President of the French Society of Cardiology

14:30

Session 1: The Heart: the Main Beneficiary of Better Air Quality – moderated by Ms. Nathalie Croisé,
scientific interventions:

Air pollution is more detrimental than smoking for heart health. (10')
Prof. Thomas Münzel, Director of the Cardiology Clinic, University of Mainz (Germany)

Cardiovascular risk and air pollution: what's new? (10')
Prof. Marianne Zeller, Chair of Observatoire des infarctus du myocarde de Côte d'Or (RICO) survey, Université Bourgogne-Franche Comté (France)

Air pollution and children's hearts (10')
Prof. Ilonca Vaartjes, Associate Professor of Cardiovascular Epidemiology, Julius Center – UMC Utrecht (the Netherlands)

Panel discussion with representatives from the cities of:


Paris – Ms. Anne Souyris, Deputy Mayor of Paris
Amsterdam – Prof. Arnoud Verhoeff, Medical and Heath Service GGD Amsterdam, Institute 'Sarphati Amsterdam, research for healthy living'
London – Ms. Joanne McCartney, Statutory Deputy Mayor of London

16:00

Session 2: Sudden Cardiac Death: the Importance of First Response to Save Lives – Moderated by Dr. Alain Ducardonnet, scientific interventions:


Sudden cardiac death: prevention and intervention (10')
Prof. François Carré, Professor of Cardiology, Hôpital Pontchaillou – Université Rennes 1 – INSERM, Rennes (France)

Sudden Death Expertise Center: awareness and action in Paris (10')
Prof. Xavier Jouven, Director of the Reference Centre for Sudden Death in the Paris Region, Cardiology Department, European Hospital Georges-Pompidou-AP-HP, Paris (France)
CPR and use of defibrillators before the arrival of professional aid (10')
Dr. Clément Derkenne, Medical Head of the Paris Fire Brigade, Paris (France)

Public access defibrillation: location is key (10')
Prof. Ramon Brugada, Director of the Cardiology Clinic, Hospital Trueta: Professor of Cardiology, University of Girona (Spain)

Panel discussion with representatives from the cities of:

Paris – Ms. Anne Souyris, Deputy Mayor of Paris
Amsterdam – Prof. Arnoud Verhoeff, Medical and Heath Service GGD Amsterdam, Institute 'Sarphati Amsterdam, research for healthy living'
London – Ms. Joanne McCartney, Statutory Deputy Mayor of London, and Ms. Jazz Bhogal, Assistant Director Health, Education and Youth

17:30
Call to Action and Conclusions

Prof. Ariel Cohen, Vice-President of the French Society of Cardiology

Handover of the Heart Healthy Cities testimonial from Paris to Amsterdam and London