Major clinical trials and updates will be given centre stage from the studio during the Prime Time Programme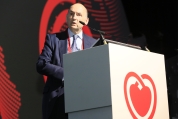 Always highly anticipated!
Original presentations of unreleased results of large-scale trials that will influence clinical management - including registry results, clinical trials and clinical trial updates.
These presentations will be complemented by a deep dive into the data during discussions with the trialists and insights from key opinion leaders.
Friday, 27 August
Time Presentation
Saturday, 28 August
Time - Presentation
...
Sunday, 29 August
Time - Presentation
...
Monday, 30 August
Time - Presentation
...
Not yet registered ?
Early fee ends on 30 June!
Register now and save
The Digital Experience will provide a great environment for discussion and exchange – Take part in Live chats, Live Q&A sessions and join the Discussion Rooms.
Not sure to be available during the Congress days ? Your registration includes a full access to all presentations to review on-demand until 13 September.