The future of cardiology is revealed in Barcelona
Discover this year's Hot Lines, featuring the latest cutting-edge science and innovations from major clinical trials across the field of cardiology.
Be the first to hear about the latest advances and explore the impact these breakthroughs will have on your daily practice.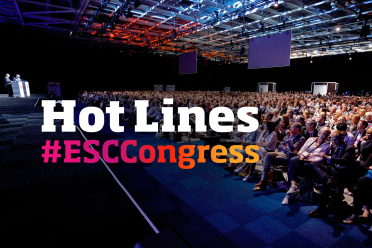 Hot Lines sessions are reserved for first presentation of the primary endpoint(s) of novel clinical trials, recently completed and unpublished.
These presentations will be complemented by a deep dive into the data during the 'Meet the Trialists' sessions including discussions with the trialists and insights from key opinion leaders.
"We have crafted a truly exceptional Hot Lines programme for ESC Congress 2022, and I encourage everybody to explore all of them. The results of these major clinical studies have the potential to advance patient outcomes, impact clinical practice and inform future clinical practice guidelines."

Stephan Windecker, ESC Congress Programme Committee Chair
Friday, 26 August
HOT LINE SESSION 1
TIME - The Treatment in Morning versus Evening study.
A polypill strategy in secondary prevention: results of the SECURE trial
PERSPECTIVE - Sacubitril/valsartan and cognitive function in HFmrEF and HFpEF
Saturday, 27 August
HOT LINE SESSION 2
DANCAVAS - Screening and intervention to prevent cardiovascular disease.
ADVOR - Acetazolamide in acute heart failure.
DANFLU-1 - High-dose vs. standard-dose quadrivalent influenza vaccine in elderly adults.
BOX - Oxygen therapy in comatose OHCA patients.
BOX - Optimizin blood pressure in post-resuscitation care.
HOT LINE SESSION 3
REVIVED - Percutaneous Revascularisation for Ischaemic Ventricular Dysfunction.
ALL-HEART - Allopurinol and cardiovascular outcomes in ischaemic heart disease.
EchoNet-RCT - Safety and Efficacy Study of AI LVEF.
HOT LINE SESSION 4
DELIVER - Dapagliflozin in Heart Failure with Mildly Reduced and Preserved Ejection Fraction.
Pooled analysis of DAPA-HF and DELIVER.
A Pre-Specified Meta-Analysis of DELIVER and EMPEROR-Preserved.
Sunday, 28 August
HOT LINE SESSION 5
INVICTUS - Rivaroxaban versus VKA for rheumatic atrial fibrillation.
PACIFIC-AMI - Efficacy and safety of factor XIa inhibitor asundexian on top of dual antiplatelet therapy after acute myocardial infarction.
PACIFIC-STROKE - Phase 2 Program of AntiCoagulation via Inhibition of FXIa by the oral Compound BAY 2433334 – non-cardioembolic STROKE study.
AXIOMATIC-SSP: Antithrombotic treatment with factor XIa inhibition to Optimize Management of Acute Thromboembolic events for Secondary Stroke Prevention.
HOT LINE SESSION 6
eBRAVE-AF - Smartphone-based AF screening.
Causal AI substantially improves the validity of estimating cardiovascular risk and benefit.
AI-ENHANCED detection of Aortic Stenosis.
HOT LINE SESSION 7
DanNICAD-2 - Perfusion scanning with MR or PET after a positive CT coronary angiography.
The PRE18FFIR trial: Coronary Plaque Activity to Predict Recurrent Events.
The FRAME-AMI trial.
Monday, 29 August
HOT LINE SESSION 8
ISCHEMIA-CKD EXTEND - Clinical Outcomes at 5 years of Follow-up.
15-month results of the MASTER DAPT trial.
FOURIER-OLE: Primary Results.
FIDELITY: Causes of mortality.
PARADISE-MI trial - Win Ratio Analysis.
HOT LINE SESSION 9
CTT meta-analysis of the effects of statins on muscle symptoms.
MTT - Assessing the effects of ARBs and beta-blockers in Marfan Syndrome.
PANTHER - P2Y12 inhibitor versus aspirin monotherapy in patients with coronary artery disease.
RTC - Radial versus femoral access for coronary procedures.
HOT LINE SESSION 10
COVID-PACT - Antithrombotic therapy in critically Ill COVID-19 patients.
ACT Outpatient trial.
ACT Inpatient trial.