Congress venue address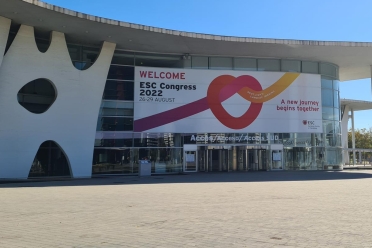 Fira Gran Via

Av. Joan Carles I, 64
08908 L'Hospitalet de Llobregat
Barcelona - Spain
Josep Tarradellas Barcelona–El Prat Airport also known as Barcelona Airport or simply El Prat Airport, is the main international gateway to Barcelona and the second busiest airport in Spain.
The public transport network makes getting around easy and convenient.
A 4-day public transport ticket can be purchased at a special congress rate as an option together with the registration.
- See more
From El Prat Airport (international airport)
By metro: 18 minutes – Rate from €3 – Take the metro line L9S towards "Zona Universitària" and stop at "Fira" station. This train runs up every 10 minutes.
By bus: 35 minutes – Rate from €3 – Take the bus line 46 from airport – Terminal T2 or T1 and stop at "Amadeu Torner", then 5 minutes walk to Fira de Barcelona. The bus runs up every 20 minutes.
By taxi: 15 minutes (depending on the traffic) - Flat rate: €20/€24
From train stations
Barcelona Sants Train Station
By metro: 25 minutes - Take metro L5 at "Sants Estacio" and change at "Collblanc", then take the metro L9s and stop at "Fira" - Rate from €3 (1-hour ticket)
By taxi (depending on the traffic): 15 minutes – Rate from €10,00
Europa/Fira station is an additional train station
Please note that this station is walking distance from the congress center.
When you leave the station, you just have to follow the signs for FIRA de Barcelona Congress Centre.
More on public transport
Covid 19
Face masks are still required in public transportation (taxi, metro, trains, bus, plane, tram).
Metro
The nearest metro station to the Congress venue is "Fira" (Metro Line L9s direction "Aeropuerto" if you are coming from Barcelona Center or direction "Zona Universitària" if you are coming from "Fira" or the airport)
Metros start running at around 5:00 am and stop at around 12:00 am from Sunday to Thursday.
The running hours are extended to 2:00 am on Friday, and the metros run non-stop on Saturday.
Tickets can be bought at any subway station.
Metros run every 5 minutes, during the day.
Tramway
The tram network in Barcelona is very small and the new lines have opened in the suburbs of the city. This is not the most convenient way to move around the city, especially that there is no line passing by the Fira.
Barcelona has 6 tramway lines serving the perimeter of the city.
Tram tickets are the same as those used on the metro and the bus.
Bus
The nearest stop is the station "Fira Barcelona", but the most convenient is "Amadeu Torner" (5 minutes walk from the Fira, and direct line from the airport.)
Ticket can be bought inside the bus from the driver or at any subway station.
A one-way journey costs €2,15 – but it does not allow any transfer.
It exists various transport tickets types that you can all find here.
The bus operates from 4:25/5:00 until 23:00 every day. There are also a night-buses service which run through the night from 23:40 – the departure point is "plaza de Catalunya"

Access Bus map online
Covid-19 measures in public transports
Avoid peak times as much as you can
Wearing a mask is compulsory on public transport
Wash your hands frequently with soap or hydroalcoholic gel
You can plan your journey by consulting the estimated level of occupancy
Spread out along the metro cars and buses as much as possible
Use disposable paper tissues
If you sneeze, cover yourself with your inside elbow
If you feel unwell or belong to a risk group, do not use public transport
Click here to consult all the public transport measures against Covid-19.
Public Transport Ticket
4-day public transport tickets at a special congress rate can be purchased in advance when proceeding with your individual registration through the web services and must be collected from the congress venue from Thursday 25 August. You can also purchase tickets onsite at the congress venue from Thursday 25 August.
Tickets are valid for unlimited journeys, on metro, bus, tram in Zone 1 and are valid to and from the airport. Please note that the Fira has a metro stop that links it to the airport and city centre.
Companies/Groups can pre-order transport tickets in advance (minimum order 10 tickets) by sending their request to transport-ticket@escardio.org.