Exhibition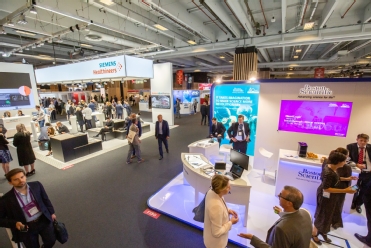 The exhibition is the ideal place for you to meet key industry leaders and learn about the latest developments and research in cardiovascular products and therapies.
Delegates in London will be able to make their way through our vibrant exhibition area and conduct enriching face-to-face interactions with industry partners as well as taking part in their booth activities.
Online participants can browse through our dedicated exhibition section and visit partner profiles including their agenda for the event, on-demand content, downloadable corporate resources, and opportunities for one-on-one interaction.
The ESC gratefully acknowledges companies and organisations who contributed to the success of ESC Congress 2023. Awaiting to welcoming them again in London.
The Digital Health Area is back!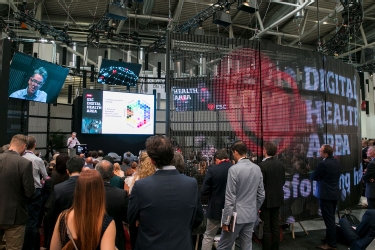 Find out more about new technologies and how they are impacting research and clinical practice in our dedicated Digital Health Area including start-ups and companies in the field exhibiting their innovations as well as a Digital Health Stage for scientific sessions on this exciting topic.
This area dedicated to Digital Health will be tailor-made to accommodate the needs of delegates from across the globe, looking for all of the latest cutting-edge technology which is transforming healthcare for patients and caregivers.
To make the most of your congress experience, make sure you share in industry activities by attending the following:
Satellite Symposia
Stay up to speed with the latest data on cardiovascular developments and innovative solutions by attending Satellite Symposia sessions. Top experts in the field will be reviewing recent trials and findings which will shape the future of cardiology practice.
Satellite Symposia will be available both onsite and online.
Tutorials
Tutorials represent a unique chance for hands-on and/or one-on-one learning from clinical and/or technical experts on specific areas of expertise, allowing you to address specific issues that are essential to your daily practice.
Delegates can take part in industry tutorials by registering with partners on their stand in Amsterdam.
ESC 365 - Your cardiology knowledge hub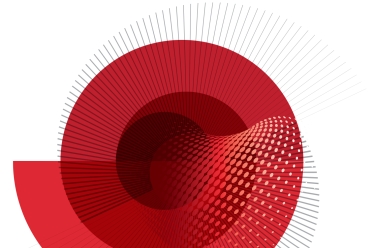 All presentations from ESC Congresses are available on ESC 365, your cardiology knowledge hub.
Relive Industry Sponsored Sessions from ESC Congress all year round.
Industry at ESC Congress 2023
The ESC gratefully acknowledges the following companies and organisations who contributed to the success of ESC Congress 2023:
Abbott
Abiomed Europe Gmbh
AliveCor Inc.
Amarin Switzerland GmbH
AMEDTEC
Amgen (Europe) GmbH
AOP Health
AstraZeneca
Bayer AG
BENEWARE MEDICAL
BioBeat
Bioscientifica
Bittium Biosignals
Boehringer Ingelheim
Boston Scientific International SA
BridgeBio International GmbH
Bristol Myers Squibb
Byteflies
Cardio Alex
Cardioline SPA
Cardiomatics
CardioSignal
Charite University Hospital
Chiesi farmaceutici spa
Circle Cardiovascular Imaging BV
CNSystems Medizintechnik GmbH
Coala Life AB
Corsano Health
Cortrium, c/o InQvation
custo med GmbH
CVRx Inc.
Cytokinetics
Daiichi Sankyo Europe GmbH
Dendrite Clinical Systems Ltd.
Edwards Lifesciences
ELEM Biotech SL
Elsevier BV
Ergoline GmbH
Esaote SpA
FibriCheck
Finapres Medical Systems BV
GALVANIZE Therapeutics
GE Healthcare
Genetesis
Happitech
Health in Code
HsienTai Instruments
iAtros GmbH
IBA
Idorsia Pharmaceuticals Ltd
Inari Medical Europe GmbH
InBody
Irhythm Technologies LTD
Jama Network
Janssen
Khawaja Medical Technology GmbH
Lifetech Scientific
Lundquist Institute
Mayo Clinic
Medis Medical Imaging
Medscape Cardiology
MedscapeLIVE!
Medtronic International Trading SARL
MedX Scientific Healthcare
MENARINI INTERNAZIONALE
Merck Sharp & Dohme LLC
MESI Medical
Microlife AG
NEWCARD
Nightingale Health
Noah Labs
Novartis Pharma AG
Novo Nordisk A/S
NP Medical / Satelia
Omron Healthcare Europe B.V.
Oxford University Press
Penumbra Europe Gmbh
Personal MedSystems GmbH
Pfizer Ltd
PHC Europe B.V
Philips Healthcare
Physicians Academy for Cardiovascular Education
Powerful Medical
Proske GmbH
PulseOn Oy
Radcliffe Cardiology
ReCor Medical
Roche Diagnostics International Ltd
Rooti Labs Limited
Sanofi Pasteur SA
Schiller AG
Scirent - Clinical Research and Science
Servier
shunmei medical co.,ltd
Siemens Healthcare GmbH
Sky Labs
Smartcardia SA
SOMNOmedics GmbH
Springer Healthcare Ltd
Thrombosis Research Institute
Vales & Hills Biomedical Tech Ltd
Vifor (International) AG
Wisepress Medical Bookshop Ltd
Wolters Kluwer Health