Hot Line - Edoxaban is noninferior to VKAs in patients with AF after TAVI
28 Aug 2021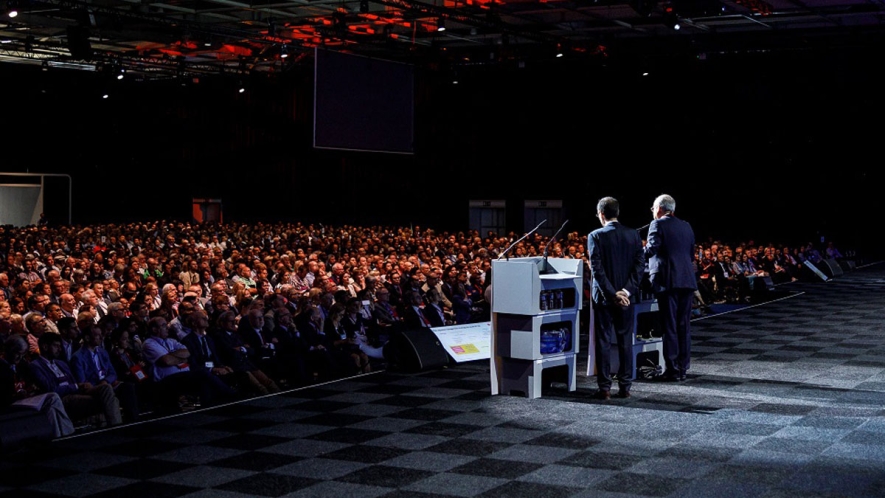 Hot Line presented at ESC Congress

There has been little information on the safety of direct-acting oral anticoagulants compared with vitamin K antagonists (VKAs) in patients with atrial fibrillation (AF) following successful transcatheter aortic valve implantation (TAVI).
In a Hot Line session today, Professor George Dangas (Zena and Michael A. Wiener Cardiovascular Institute, Icahn School of Medicine at Mount Sinai, New York, USA) presented results from the multicentre, open-label ENVISAGE-TAVI AF study, in which patients with AF and an anticoagulation indication were randomised to receive edoxaban or the locally available VKA (warfarin or its analogues), each administered between 12 hours and 5 days following TAVI.
The primary efficacy endpoint was the incidence of net adverse clinical events (NACE), a composite of all-cause death, myocardial infarction, ischaemic stroke, systemic thromboembolism, valve thrombosis and major bleeding (as defined by the International Society on Thrombosis and Haemostasis [ISTH]). The primary safety endpoint was the incidence of ISTH-defined major bleeding.
The average age of the 1,426 participants was 82 years and 47.5% were women. Comorbidities were common: 83–87% had congestive heart failure, 39–42% had coronary artery disease, and approximately 17% had a previous stroke or transient ischaemic event.
At an average follow-up of 18 months, edoxaban demonstrated noninferiority to VKAs for the primary efficacy endpoint, with NACE rates of 17.5% per year in the edoxaban group and 16.5% per year in the VKA group (hazard ratio [HR] 1.05; 95% confidence interval [CI] 0.85 to 1.31; p=0.01 for noninferiority).
However, there was a higher risk of major bleeding in the edoxaban group compared with the VKA group (HR 1.40; 95% CI 1.03 to 1.91), with rates of 9.7% per year and 7.0% per year, respectively. The higher risk was mainly due to gastrointestinal bleeding. In secondary analyses, patients in the edoxaban group who required a downward dose adjustment and those not prescribed oral antiplatelet therapy had a similar rate of major bleeding as those in the VKA group.
Summarising the findings, Prof. Dangas commented, "ENVISAGE-TAVI AF suggests that treatment with edoxaban can be valuable in the management of this high-risk population of patients with AF after TAVI. We need to be attentive to the higher bleeding risks with edoxaban. Based on secondary analyses, it seems that lowering the edoxaban dosage when indicated and avoiding patients on mandatory antiplatelet therapy is reasonable safety advice from a clinical point of view. We will be conducting a detailed analysis on specific types of bleeding in the near future."
Missed the session? Watch it on demand:
https://digital-congress.escardio.org/ESC-Congress/sessions/2830-hot-line-envisage-tavi-af