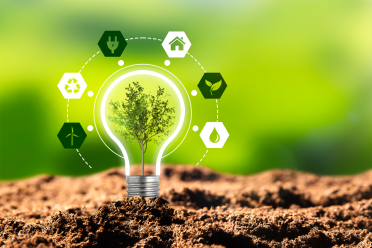 The ESC's mission is to reduce the burden of cardiovascular disease – so we know we have an especially relevant calling when it comes to environmental sustainability, given its impact on cardiovascular disease and health.
Environmental sustainability is one of the six strategic aims in the ESC Strategic Plan for 2023–2028. Specific objectives serve as guideposts.
Working with our venue partners to make a difference
Acting today, for a better tomorrow
ESC Congress 2024, will be taking place at the ExCeL London, a carbon-neutral venue. No waste from the centre goes to a landfill and food waste is broken down in an on-site wormery. The centre has signed up to the Net Zero Carbon Events Pledge, committing to a 50% emissions reduction by 2030 and to become net zero by 2050.
Sustainability engagement is included in our Requests for Proposals from event venues and suppliers. We work with partners engaged in limiting their carbon footprint and who have already adopted sustainable measures in their daily practice. Only by working in partnership within the events industry will we make significant steps forward to reach our key strategic aim of environmental sustainability.
Back to ESC Congress 2023
How we reduced materials use and waste
Carpet used throughout the congress was either recycled, reused, repurposed or a combination of all of these.

We only used carpet if necessary. At future events, if the existing floor is suitable, carpet will not be used, including at sub-specialty congresses.

Suppliers donated leftover construction materials to local charities.
The RAI Congress Centre has a 0% landfill policy, which means 0% of waste goes to landfill; 100% of waste is recycled, reused, or used to generate energy.
Water stations in the congress centre made it easy for delegates to refill their reusable bottles and recycled plastic water bottles were provided for faculty.
Printed materials, such as leaflets and programmes, were very strongly discouraged. Paper posters were replaced by electronic posters and mobile apps minimised paper use.
ESC Congress News and the Programme at a Glance were printed on recycled paper.
Recycled materials and sustainable ink were used for printed signage.
75% of the materials used in the Research Gateway will be reused next year at ESC Congress 2024 in London.
ESC Congress bags are Oeko-Tex, a label guaranteeing that they contain no toxic substances.
How we dialed down energy consumption
The congress centre's 3,970 solar panels allowed us to partially cover energy needs.
How we lessened the impact of travel
Use of public transport was encouraged and a partnership with 'Yellow Bike' offered rental bikes in front of the RAI. ESC staff used public transportation to and from Amsterdam airport.
The ESC supported alternative travel solutions such as trains and other volunteer initiatives.
Flights emit seven times more emissions than train journeys, so the Swedish Society of Cardiology chartered a train from Stockholm to Berlin. During the journey, a pre-congress science programme included a lecture on air pollution and cardiovascular disease.
60 Danish cardiologists travelled by bus to ESC Congress and back. Contributions from the country's hospitals made this trip free for the passengers.
Tour du Cœur: A group of almost 30 delegates from Switzerland and The Netherlands rode to Amsterdam by bicycle.
How we cut back food waste
Guidelines were established for catering orders for all ESC meetings: food was ordered only if necessary for the approximately 300 meetings during the congress.
Food served at the RAI prioritised the use of local and seasonal ingredients and vegetarian options were always available.
Food leftovers were donated to local charities.