What is the Innovation Funding Area ?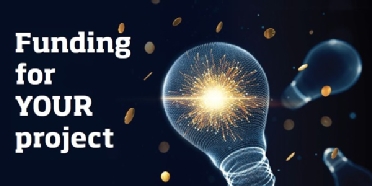 If you have an outstanding project that needs funding, then this is the place for you!

The ESC has brought together funding institutions and firms to help you – innovators in cardiovascular medicine – get the financial support you need.

Your project could be anything from basic or clinical research, to digital health, robotics or electronics. If it's innovative and will advance cardiovascular medicine, then our funding partners want to hear from you.
Meet with investment firms, funding foundations, EU funding experts and the ESC grants team at their booths.
Attend special sessions and the panel discussion with the experts
Network at the dedicated event on Sunday and throughout the congress!
Which investor is right for you?
Venture capitalists seek initiatives that are in a start-up phase and have patents that are pending or granted. They should also have proof-of-concept or pre-clinical evidence.
Projects in an earlier stage should approach Cardiovascular Lab and 'business angels'. Ideally these projects should have filed or obtained a patent and have a prototype or some feasibility data.
Make an appointment with an investment firm
Contact your chosen investment firm directly via the ESC Congress Mobile App.
Be well prepared : priority will be given to innovators with clear objectives and structured projects.
NEW! Investment Firms
CV Lab
Cardiovascular Lab (CVLab) is the first incubator fully focused on cardiovascular innovation in Europe. It selects the most promising ideas and turns them into spin-offs that can be funded by international venture capital.
CVLab benefits from a strong network of entrepreneurs, technical and clinical experts in the cardiovascular field and works with the best industry specialists. It is a lean and responsive team, focused on unmet clinical needs and open to early-stage projects.
CVLab selects the most promising ones, in terms of innovative content and market potential, and It prioritizes those that can achieve proof-of-concept within a year and can become standard-of-care within five years.
Innogest Capital
Corefund is the Innogest's program for Cardiovascular and metabolic diseases: a world class team and global capabilities to feed the cardiovascular hunger for innovation.
Innogest Capital has gained leading-edge expertise in therapeutics and diagnostics, supporting companies from early stage through clinical trials and exit. Its network of partners, advisors, industry leaders and co-investors spread across Europe, United States and Asia.
Innogest Capital works with physicians, for patients. The firm looks for powerful claims and smart clinical plans and strives for continuous improvement.
Indaco Venture Partners SGR
Founded in 2016, today Indaco Venture Partners SGR is the largest independent Italian venture capital asset management company, with a strong specialization in companies that innovate in medtech and diagnostics, electronics and robotics, digital and new materials. In the Life Sciences space Indaco has experience in different areas, starting from cardio-vascular, neuro-stimulation, biophysics and molecular diagnostic.
Indaco manages over 250 million across its five funds. Investments in Indaco Ventures Fund I are focused on growth-stage companies whose competitive advantage stems from cutting-edge proprietary technologies and innovations. The focus is on Italian enterprises, although investments are made throughout Europe, USA, Canada and Israel.
Anchor institutional investors in Indaco Ventures Fund I include Intesa Sanpaolo, Fondazione Cariplo and Fondo Italiano d'Investimento.
The investment team managers have more than 10 years of experience in venture investing in Italy and abroad and have executed a high number of successful exits, including IPOs and transactions with corporate partners.
Earlybird | Venture capital
Earlybird is a venture capital investor focused on European technology companies.
Founded in 1997, Earlybird invests in all growth and development phases of a company. Amongst the most experienced venture investors in Europe, Earlybird offers its portfolio companies not only financial resources, but also strategic and operational support as well as access to an international network and capital markets. Earlybird manages different funds with focuses on digital technologies in Eastern and Western Europe as well as health.
With over EUR 1 billion under management, seven IPOs and 24 trade sales, Earlybird is one of the most successful venture capital firms in Europe.
MD Start
MD Starts is a fund, a team of entrepreneurs and an incubator combined, aimed at transforming innovative ideas into medical realities. Our mission is to incubate medical device innovations to the point where proof-of-principle in patients is demonstrated, allowing for interest from traditional investors and our continued funding. MD Start creates, funds, and operates the projects and new companies to bridge the gap between science and clinical experience. We source innovations that are too early for large corporate or venture investors. These inventions arise from clinicians all over the world who do not wish to become entrepreneurs.
Our team is made up of seasoned medtech operators practiced in catalyzing early stage opportunities, accelerating their development and translating them to the clinic. We provide both the seed funding and the operational manpower to develop outstanding medtech inventions into companies with strong fundamentals. This approach enables us to bring to market innovative treatments addressing major unmet medical needs. It also allows for systematic de-risking of disruptive medtech projects in all key areas: clinical need and market sizing, intellectual property, technical feasibility, pre-clinical validation, regulatory and market access pathways – and ultimately initial clinical experience in patients.
Tech Care Paris
Tech Care Paris is an incubation platform of Paris&Co, the leading incubator network in Europe, dedicated to the fields of health and well-being. Tech Care Paris supports startups in their development. Its support is based on expertise and coaching by the incubator team, a rich external network, offices in the heart of the 15th arrondissement of Paris and finally on the implementation of a specialized training program in health.
Based on multi-corporate partnerships, Tech Care Paris works with its entrepreneurs and partners to answer to health challenges of our society.
Techwald Holding Spa - TWH
Operational Holding Company scouting, investing and supporting high growth potential early stage companies, committed to develop Healthcare Innovation.
We have a key strategy focus on MedTech industry and Medical Technologies - medical devices, equipment, digital devices and services - which can provide benefit and value for Patients, Doctors and Healthcare Systems, and reward Shareholders with a sound and ethical profit.
Funding Foundations
The British Heart Foundation
The British Heart Foundation (BHF) is the UK's largest independent funder of cardiovascular research. For almost 60 years, the BHF has pioneered life-saving research that has helped halve the number of deaths from heart and circulatory disease in the UK. The BHF also helps provide vital support and care for the 7million people in the UK living with cardiovascular disease, along with information to help others reduce their risk and improve their heart health.
EU Research Funding
Meet with our expert team to get a better understanding the different EU funding mechanisms, who can apply and how.
What EU funding instruments are available, including Horizon 2020, ERC, ERA NETs and Marie Curie, Innovative Medicines Initiative (IMI) and Structural Funds
Future EU funding opportunities and instruments, including Horizon Europe
Process and timelines for EU funding applications
How to navigate the EC Portal, including creation of an ECAS account, templates etc.
How to involve the ESC as a consortium partner and examples of EU funded projects currently in progress, such as CATCH ME, BigData@Heart and EUcanshare.
ESC Grants Team
Each year the ESC awards research, training and nursing grants of €25,000 each, researchers and clinicians to work in a centre of excellence outside of your own country.

ESC subspecialty communities also offer numerous grants and training fellowships in training and research.

Find out if your eligible, how to apply and meet former grant awardees to learn how an ESC grant supported their project and career.
Sessions in the Global Exchange
Find out more about funding opportunites during dedicated sessions in the Global Exchange.
Investor session: Each investment firm will present their business and what they can offer in terms of support to individuals and groups working in cardiovascular research, technology & innovation
Investor panel discussion - Sunday 01 September
A practical and interactive session to guide you through the funding application process with investment firms.