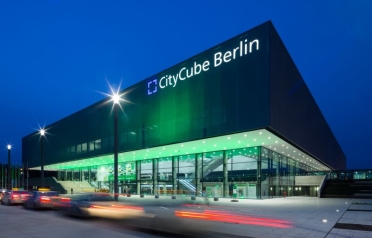 Venue address:
CityCube
Messedamm 26
14055 Berlin
Germany
Public transportation
Train
The train station closest to the CityCube Berlin is the U-Train: Kaiserdamm, Theodor-Heuss-Platz.
Train from every national station - the Event Ticket
Travel fast, cheaply and environmentally friendly to us and enjoy your journey from the beginning. The congress venues has a special partnership with Deutsche Bahn to create an exclusive deal that allows you to travel conveniently to and from the congress venue.
The Event Ticket is at a single nationwide price, available at every DB station to Berlin.
Event Ticket for a single journey, for use only on one specific connection (subject to availability): 2nd class EUR 51.90/

1st class EUR 84.90

Event Ticket for single journey, for use on all connections (always available):

2nd class EUR 72.90/

1st class EUR 106.90
Train from the airport
Berlin airport trains are the fastest and most popular transportation mode to Berlin city center. Passengers arriving at terminals 1 and 2 will find the railway station under terminal building 1 at the U2 level, whereas terminal 5 railway station is accessible via a covered corridor. Both train stations are located at a 10-minute walking distance from the respective Arrivals areas. However, regional trains stop only at the T1 railway station while S-Bahn trains serve both τerminals.
The regional airport Εxpress Τrain FEX links the airport to Berlin Central Station in only 30 minutes, departing from terminal 1 railway station every half an hour. Furthermore, the Regional Trains RE7 and RB14 also head to Berlin city center. Nevertheless, they are less frequent, passing once every hour. Likewise, the S-Bahn Train S9 connects the new airport to Berlin downtown, reaching the Hauptbahnhof in 50 minutes. The Local Train S9 departs from both terminals (1 and 5) every 20 minutes.
The S-bahn station to get off is Messe Sud.
Public transport within Berlin
Direct access to the grounds from one of the world's best public transport systems means that getting here is always quick and easy. There are taxi ranks, underground/light rail stations and bus stops next to our entrances. Berlin's public transport system will take you swiftly and in comfort to the destination of your choice.
S-Bahn

The closest station to the Messe Berlin is: Messe Süd. The S-bahn information for S3 and S9 that get you to the congress venue is available.
Taxi
Berlin airport taxis provide value for money transfer services from BER Airport to Berlin city center. Available 24/7 at the airport, you can easily catch your taxi from the official airport taxi stand on the ground level of terminal building 1. There is no set fare for the journey. Thus, the taximeter forms the price. In any case, the usual tariff is about 49€ (49$) both day and night, while traveling time is around 45 minutes.