To/From the Congress Venue
Location of Congress Venue
The congress will take place in Barcelona at the Fira Gran Via.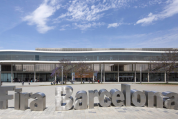 Fira Gran Via
North Entrance - Hall 8
Carrer del Foc, 37
08038 Barcelona, ES


By Metro
ESC recommends using public transport wherever possible.
This year there is a new metro line, Line 9 Sud, that runs from the airport to Fira Gran Via, and into Barcelona city centre. It connects with three other major metro lines, so there is a simple way to get to Fira Gran Via from nearly every area of the city.
Metro stops: Europa Fira (5-minute walk)
Cost (airport to Fira Gran Via): €4.50
Journey Time: The image below indicates the time in minutes, for example, Fira Gran Via to the airport is '18 (minutes) from Terminal 2.
Click on the image to zoom in.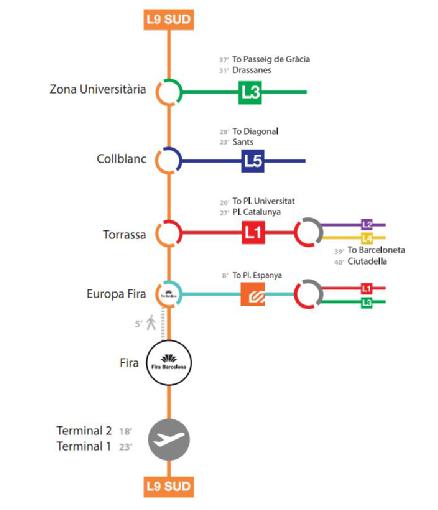 By Bus
Bus line 79, stop, Av Joan Carles I-Botànica is the nearest stop to Fira Gran Via.
By Taxi to/from Venue
Airport
A taxi from the airport to the Fira Gran Via costs around €20
Journey time: about 15 minutes, depending on the time of day
For hotels located close to the venue, please check with your hotel to see if there is a shuttle bus service to and from the airport.
City Centre
A taxi from the city centre to Fira Gran Via costs around €25-€30.
Journey time: 15-20 minutes.
There is a taxi station outside the congress venue on Av. Joan Carles I.