Join us in Madrid for an exciting return to meeting face to face and enjoying the thrill of discovering and sharing together the latest science from across all core specialties within cardiology. Be part of a truly international congress, with attendees from across the globe.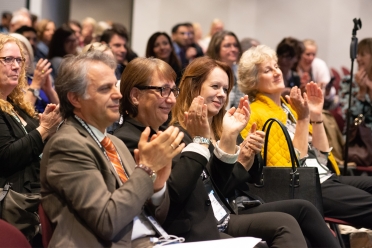 Special edition this year! We are especially excited about this year's congress as it is being held in parallel with Heart Failure 2022 (21-24 May) at the IFEMA congress centre in Madrid. That means two congresses under the same roof for a unique experience!
This special collaboration will forge meaningful synergies across the heart team and ensure nurses and allied professionals benefit from learning and networking together.
For colleagues who cannot attend onsite or prefer to connect online, an interactive experience awaits you, with opportunities to ask your questions to international experts and network with peers.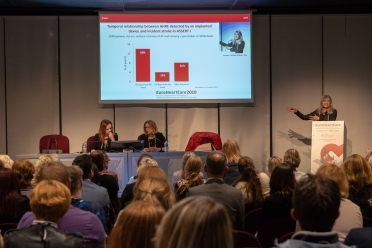 The scientific programme is carefully designed to provide education and training across all core specialties with international leading experts. It includes:
• Expert interactive multidisciplinary sessions.
• Science and research skills workshops, including a pre-congress workshop in novel research methodologies.
• Dedicated tracks with practical guidance on how to perform procedures, implement guidelines and deliver high quality clinical care..
A dedicated stream of 'in Spanish' sessions is being designed for our Spanish-speaking colleagues in cardiovascular nursing and allied professions.
Additional sessions are available to onsite attendees on Saturday, 21 May - the day before the official start date of the congress.
Browse the scientific programme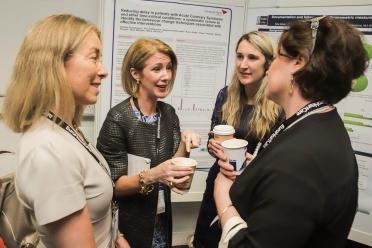 Network with peers from other countries about building on successes, overcoming challenges and strengthening collaborative efforts for the future.
Get inspired by presented cases and the wide-ranging reach of the community.
An interactive research, education and onsite networking 'gateway' zone will host simulated case management scenarios, meet the experts, rapid fire abstracts and professional development sessions.
Make sure to register early for the best savings. we look forward to welcoming you on 22 and 23 May.
ACNAP-EuroHeartCare 2022 Congress Programme Committee
The ACNAP would like to express its thanks to all those healthcare professionals who volunteered to give their time leading the ACNAP-EuroHeartCare 2022 programme and who drove forward scientific exchange.
See the Congress Programme Committee led by:

Dr. Jennifer Jones,
Scientific Programme Congress Committee Chairperson
| Position | Name | Country |
| --- | --- | --- |
| Chair | Jennifer Jones | United Kingdom |
| Co-Chair | Elena Marques-Sule | Spain |
| Member | Catherine Ross | United Kingdom |
| Member | Erika Froelicher | USA |
| Member | Gianluca Pucciarelli | Italy |
| Member | Helen Walthall | United Kingdom |
| Member | Izabella Uchmanowicz, FESC | Poland |
| Member | Maggie Simpson | United Kingdom |
| Member | Maria Back, FESC | Sweden |
| Member | Raúl Juárez Vela | Spain |
| Member | Robyn Gallagher, FESC | Australia |
| Member | Sotiris Antoniou | United Kingdom |
| Member | Suzanne Fredericks | Canada |
Local Host Committee members led by Elena Marques-Sule, Co-presidenta del ACNAP–EuroHeartCare Congress 2022:
Isaac Moll-Adrián
Concepción Cruzado-Álvarez
Jose-Miguel Rivera-Caravaca
Jose-Luis Zamorano
Marta Farrero
"La edición de este año del congreso ACNAP–EuroHeartCare Congress 2022 es especialmente interesante. Disfrutaremos de sesiones en español, con la opción de asistir a dos congresos por el precio de uno en el IFEMA de Madrid, y con la posibilidad de asistir en persona, o bien online. ¡Inscríbete y disfruta del congreso!"

Elena Marques-Sule
#EuroHeartCare is buzzing
Follow our amazing team of Twitter Ambassadors for the latest updates from the congress. Join them for insightful discussions: @BulckLiesbet @AnaFGomesNsp @m4ggiesimpson @EkateriniL @Angie_Durante89 @EditorEJCN @ACNAPPresident @MarielaAcunaM1 @susiecartledge