Your first-access to ground-breaking cardiovascular science in a new digital experience.
From Friday to Monday, tune in to the Prime Time programme from 14:00 (CEST).
Major clinical trials and updates will be given centre stage from the studio.
Register now to join us, live from the ESC studio
Be the first to hear the latest on cardiovascular care from the presenters
Learn more through analysis and discussion from our expert panels
Get YOUR questions answered, live from the studio!
and receive full access to all presentations, on-demand, until 13 September.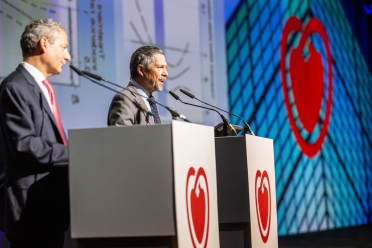 Hot Lines sessions are reserved for first presentation of the primary endpoint(s) of novel clinical trials, recently completed and unpublished.
These presentations will be complemented by a deep dive into the data during discussions with the trialists and insights from key opinion leaders
Friday, 27 August
GUIDE-HF: haemodynamic-guided management of heart failure – randomised arm primary outcomes
EMPEROR-Preserved: effect of empagliflozin on cardiovascular death and heart failure hospitalisations in patients with heart failure with a preserved ejection fraction, with and without diabetes
EMPEROR-Pooled: effect of empagliflozin on serious adverse renal outcomes in chronic heart failure – a prospective alpha-protected, Individual patient-level pooled analysis
SMART-MI- ICMs: Implantable cardiac monitors in high-risk post-infarction patients with cardiac autonomic dysfunction and moderately reduced left ventricular ejection fraction - A randomized trial
Saturday, 28 August
MASTER DAPT: dual antiplatelet therapy after coronary stenting in high bleeding risk patients
ENVISAGE-TAVI AF: edoxaban vs. vitamin K antagonists after TAVI in patients with atrial fibrillation
FIGARO-DKD: finerenone in patients with chronic kidney disease and type 2 diabetes
FIDELITY Analysis: finerenone in mild-to-severe chronic kidney disease and type 2 diabetes
APAF-CRT: AV junction ablation and CRT in patients with permanent atrial fibrillation and narrow QRS
DECAAF II: efficacy of DE-MRI-guided fibrosis ablation vs. conventional catheter ablation of persistent atrial fibrillation
Sunday, 29 August
TOMAHAWK: immediate angiography after out-of-hospital cardiac arrest
RIPCORD 2: does routine pressure wire assessment influence management strategy of coronary angiography for diagnosis of chest pain?
ACST-2: stenting vs. surgery for tight carotid stenosis
LOOP Study: screening for AF with an implantable loop recorder to prevent stroke
SSaSS: Salt Substitute and Stroke Study into the effect of salt substitutes on cardiovascular events and death
Monday, 30 August
IAMI: Influenza Vaccination after Myocardial Infarction randomised trial
PRONOUNCE: comparing cardiovascular safety of degarelix vs. leuprolide in patients with advanced prostate cancer and cardiovascular disease
STEP Study: intensive vs. standard blood pressure control among older hypertensive patients
Amulet IDE: Amplatzer Amulet left atrial appendage occluder randomised controlled trial
STOPDAPT-2 ACS: one-month dual antiplatelet therapy followed by clopidogrel monotherapy in acute coronary syndrome
Even more Late-Breaking Science in the channels and on-demand programmes.
Register now
And get full access to all presentations on-demand until 13 September.