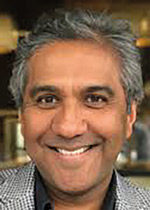 These findings from the ORION-11 trial were presented by principal investigator, Professor Kausik Ray (Imperial College London, London, UK) at a Late Breaking Science Session on Monday.
ORION-11 included 1,617 patients with atherosclerotic cardiovascular disease (ASCVD), or ASCVD risk equivalents, and elevated LDL-C despite maximally tolerated statins (with or without ezetimibe). Patients were randomised to a subcutaneous inclisiran sodium 300 mg injection, a second injection after three months and then injections every six months thereafter, or to placebo injections. Mean baseline LDL-C levels were 107 mg/dL in the inclisiran arm and 104 mg/dL in the placebo arm. Most patients (95%) were on a statin (95% on a high-intensity statin) and around 7% were on ezetimibe.
For the primary endpoint, placebo-adjusted LDL-C reductions of 54% (p<0.00001) were achieved with twice-yearly injections of inclisiran at 17 months. The rate of adverse events (AEs) was similar between the groups and localised injection-site AEs—occurring in 4.7% of patients with inclisiran vs 0.5%
with placebo—were mostly mild and transient. Further, the marked LDL-C reductions with inclisiran were not accompanied by any signs of liver, kidney, muscle or platelet toxicity. A similar proportion of inclisiran- and placebo-treated patients experienced serious AEs (22.3% vs 22.5%, respectively) or all-cause mortality (1.7% vs 1.9%, respectively). During the study, an exploratory cardiovascular endpoint (cardiac death, any signs or symptoms of cardiac arrest, non-fatal myocardial infarction or stroke) occurred in 7.8% of patients treated with inclisiran and 10.3% of patients with placebo.
Prof. Ray concludes, "The advantage of inclisiran is that it is given via twice-yearly subcutaneous injection, while the other PCSK9-lowering agents are injected every two weeks or monthly. We believe this may lead to better adherence and, potentially, better outcomes."
ORION-9 is ongoing in patients with ASCVD, while the ORION-10 trial is being conducted in patients with heterozygous familial hypercholesterolaemia. Both will report in due course.
Click here to read other scientific highlights in the ESC Congress news.
Download the Wednesday Edition in PDF format.
Access all the resources from congress presentations on ESC 365.