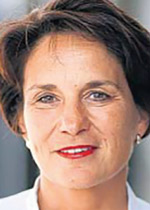 Enormously respected for her work in improving the understanding and treatment of atrial fibrillation and its sequelae, Prof. Van Gelder is the Principal Investigator of over twenty clinical trials, a Task Force member of the upcoming 2020 ESC Clinical Practice Guidelines for the management of atrial fibrillation and Associate Editor of EP Europace.
While doing her PhD in arrhythmia research in the 1980s, Prof. Van Gelder's interest was piqued by atrial fibrillation, particularly the diversity of patients and their symptoms. "Some patients were very symptomatic and others had no symptoms at all. At that time, the standard clinical approach for all patients was restoration of sinus rhythm, but this was difficult to maintain and patients also had to suffer the side effects of antiarrhythmic drugs. I wanted to know if it was actually necessary to restore sinus rhythm in asymptomatic patients," she says. Prof. Van Gelder counts the series of RACE trials that emerged from her subsequent research as being among her greatest career achievements. "The first RACE trial1 showed that rate control was not inferior to rhythm control in reducing the risk of death and morbidity. Published at the same time as the US AFFIRM study2—which reported similar results—these findings changed the way atrial fibrillation is treated, and had the dual benefit of sparing patients the side effects of unnecessary treatment and reducing treatment costs." The RACE 2 and RACE 3 trials followed, demonstrating the benefits of lenient vs strict rate control strategies and of treating underlying conditions, respectively. It is this latter area that Prof. Van Gelder focused on in her lecture, 'Atrial fibrillation: not just an arrhythmia'. "We need to identify, and then treat, patients' comorbidities; this is essential for reducing the adverse outcomes of atrial fibrillation, such as heart failure, stroke and dementia."

"We must learn to look not only at their ECG, but also at the whole patient."
Prof. Van Gelder talks about the challenges facing atrial fibrillation research. "We have learned a lot, but there is still much progress to be made," she says. "We need to know if the duration of atrial fibrillation plays a part in prognosis and to better understand the role of personalised therapy. For example, do we treat atrial fibrillation patients with hypertension and diabetes differently to those with heart failure? And a really pressing challenge is dealing with sex differences in atrial fibrillation. At the moment, fewer than one-third of participants in atrial fibrillation trials are women; in the recent CASTLE-AF trial, the proportion was only 14%.3 So, how do we know if the results from even large trials are applicable to women?" A further challenge is screening. "One in four people over the age of 55 years will have atrial fibrillation. We need to find ways to increase awareness among general practitioners and the general population and to capture the data more easily." Finally, lifestyle factors should be incorporated into all treatment plans.
It is these challenges that will form the basis for the future of research in atrial fibrillation, at least in the short-term, with the main emphasis being on individualising the disease and personalising treatment. In addition to incorporating new technologies into treatment, Prof. Van Gelder thinks that different subspecialties should cooperate more closely. "Atrial fibrillation never comes alone. Combining the views of different specialists will give doctors a more complete picture and will help patients to get better treatment. It is a win–win situation."
Click here to read other scientific highlights in the ESC Congress news.
Download the Tuesday Edition in PDF format.
Access all the resources from congress presentations on ESC 365.