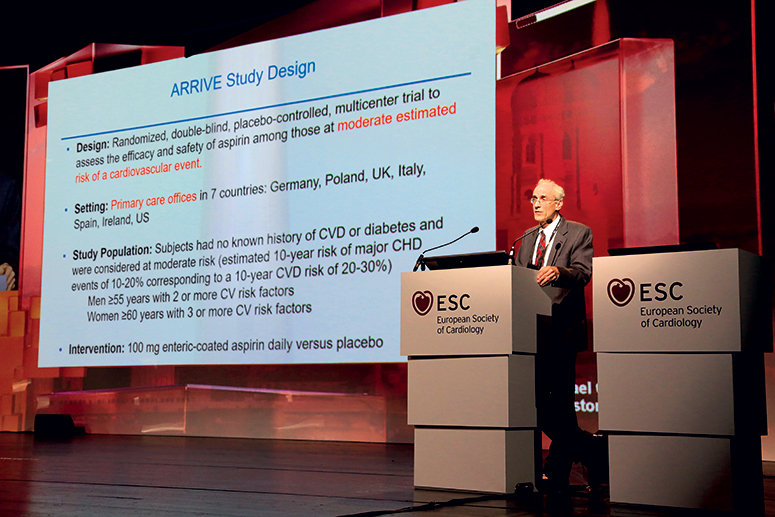 The ARRIVE trial involved 12,546 participants with an estimated 10-year cardiovascular disease risk of 20–30% and is the first large randomised controlled trial to explore the efficacy and safety of primary prophylactic aspirin in this particular population. Participants received either once-daily enteric-coated aspirin 100 mg or placebo. Median follow-up was 60 months and the primary endpoint was time to first occurrence of a composite of cardiovascular death, myocardial infarction (MI), stroke, unstable angina and transient ischaemic attack.
In the intention-to-treat analysis, a primary cardiovascular event occurred in 4.29% of participants allocated daily aspirin vs 4.48% of participants allocated placebo (hazard ratio [HR] 0.96; 95% confidence intervals [CI] 0.81–1.13; p=0.60).
However, there was an unexpectedly low number of cardiovascular events that occurred overall. "The event rate was more in line with what we would expect to see in a population at low risk of cardiovascular events," says Prof. Gaziano. "This may have been because some participants were taking medications to lower blood pressure and lipids, which protected them from disease," he adds.
There were considerably fewer events than anticipated (550 participants had a primary endpoint event versus the 1,488 expected), which may have impacted the findings.
The risk of total and non-fatal MI (HR 0.53; 95% CI 0.36–0.79; p=0.0014 and HR 0.55; 95% CI 0.36–0.84; p=0.0056, respectively) was reduced by aspirin in the per-protocol analysis, and the relative risk reduction of MI in the aspirin group was 82.1% for those aged 50–59 years.
"Those who took aspirin tended to have fewer heart attacks, but there was no effect on stroke. As expected, the rate of gastrointestinal bleeding was higher in the aspirin group, but there was no difference in fatal bleeding events between groups," reports Prof. Gaziano.
Although mostly mild, gastrointestinal bleeds occurred twice as often in the aspirin group than the placebo group (0.97% vs 0.46%, respectively; HR 2.11; 95% CI 1.36–3.28; p=0.0007).
"The use of aspirin remains a decision that should involve a thoughtful discussion between a clinician and a patient given the need to weigh the cardiovascular and cancer benefits against the bleeding risks, patient preferences, cost and other factors," concludes Prof. Gaziano.
1. Gaziano JM, et al. Lancet 2018; August 26: https://doi.org/10.1016/S0140-6736(18)31924-X.
Click here to read other scientific highlights in the ESC Congress news.