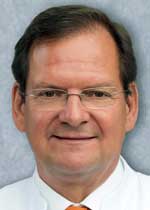 "Air pollution comprises a mixture of gases and particulate matter," he explains. "The type of damage caused by inhaled particles depends on their size. Coarse particulate matter (<10 µM; PM10) tend to lodge in the lung tissues, causing respiratory diseases. Particles that are fine (<2.5 µM; PM2.5) and ultrafine (<0.1 µM; nanoparticles) enter the bloodstream, and importantly also the brain, and infiltrate the vascular tissue leading to endothelial dysfunction, increased oxidative stress, inflammation and, ultimately, cardiovascular disease (CVD)," he says. It is also important to note that recent research indicates that the mechanisms underlying noise-induced vascular dysfunction are strikingly similar to that caused by air pollution, and hence a similar acceleration of the atherosclerotic process is to be expected for the latter.3
In itself, the negative health impact of air pollution is not new. "According to the Global Burden of Diseases, airborne particulate matter was the fourth greatest risk factor for death in 1990. In 2015, it was the fifth. It surprises me that while other high-ranked risk factors, such as high blood pressure, smoking, high plasma glucose and high cholesterol, attract a great deal of attention, the impact of pollution seems to pass under the radar." He admits that this is probably related to the fact that pollution is a policy problem. "With the other risk factors, individuals can tackle the problem themselves, such as stopping smoking or changing diet. With air pollution, we need politicians to step up and do something to improve air quality." In the case of Europe, drastic measures are needed. "Europe has the highest annual mean air quality limit for PM2.5 concentrations," says Prof. Münzel. "At 25 µg/m3, the limit is double that of the US and two-and-a-half-times the guideline concentration set by the World Health Organization (WHO)."
Prof. Münzel and his group made headlines with a new estimate for excess cardiovascular deaths caused by air pollution.1 "Using an extended database-based Global Exposure Mortality Model, we found that the 2015 global mortality rate due to a combination of PM2.5 and ozone almost doubled from previous estimates of 4.55 million to 8.79 million. Compare this with WHO's estimated 7.2 million deaths/year from cigarette smoking." Prof. Münzel continues, "In Europe alone, almost half of the 790,000 excess deaths per year due to ambient pollution relate directly to ischaemic heart disease and stroke (Figure). The number of deaths due to CVD is likely to be higher when you include deaths from arterial hypertension and diabetes mellitus, known risk factors for CVD."
Prof. Münzel thinks it's time for urgent action. "We must raise awareness of the problem among politicians," he says. "We need to identify whether lifestyle changes such as exercise, specific cardiovascular drugs or better urban planning to improve environmental quality and human well-being may impact significantly on the adverse health effects caused by environmental stressors. Further, we need to demand effective emissions control, to eliminate the use of fossil fuels and biomass burning and to move to clean energy sources. We also need to identify the main sources of air pollution specific to different countries and tailor pollution control measures appropriately."
Don't miss!
Environment and cardiovascular health
Monday, 11:00 – 12:30; Camus – The Hub
Outstanding abstracts on air pollution from our Young Investigators:
Click here to read other scientific highlights in the ESC Congress news.
Download the Sunday Edition in PDF format.
Access all the resources from congress presentations on ESC 365.