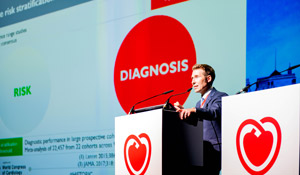 According to presenter, Professor Nicholas Mills (University of Edinburgh, Edinburgh, UK), "hs-cTn assays have advanced such that we can now measure very low levels of troponin, well below the 99th centile recommended by clinical practice guidelines to rule in MI. This information could enable doctors to identify low-risk patients on presentation to the emergency room (ER) and avoid hospital admission for serial testing."
Clinical practice has not kept pace with this change in technology and most guidelines continue to recommend serial testing to rule out MI at the 99th centile diagnostic threshold. "We thought it would be safer to rule out MI using a much lower threshold, and this could reduce the need for serial testing and hospital admission," says Prof. Mills. Data from observational studies give support to this concept, but randomised data have been lacking.
The British Heart Foundation-supported HiSTORIC trial was a stepped-wedge cluster randomised controlled trial in seven hospitals across Scotland. The design involved randomisation at the level of the hospital, not the patient, and therefore all consecutive patients undergoing hs-cTnI testing for suspected acute coronary syndrome in the ER were enrolled. MI was ruled out if hs-cTnI concentrations were <5 ng/L at presentation or between 5 ng/L and the 99th centile with a change <3 ng/L at three hours (High-STEACS pathway).
"The study design meant that the pathway was applied to all-comers, not selected patients, and it enabled us to see how effective the approach was when adopted by hundreds of different clinicians across multiple hospitals," explains Prof. Mills.
The co-primary endpoints were length of stay (efficacy) and MI or cardiac death after discharge (safety). A total of 31,492 patients with cTnI concentrations <99th centile were enrolled and followed up for one year. Because the trial used a comprehensive repository of routinely collected healthcare data (DataLochTM), there was no loss to follow-up.
Use of the pathway reduced length of stay by more than 3 hours (from 10.1 ± 4.1 to 6.8 ± 4.1 hours; p<0.001) and increased the proportion of patients discharged from the ER (from 53% to 74%; p<0.001).
The event rate for the safety outcome measure was similar before and after implementation of the early rule-out pathway, at 0.4% and 0.3% at 30 days, and 2.7% and 1.8% at one year, respectively. Prof. Mills comments, "The results show that not only is this approach safe for patients, but that it is likely to lead to substantial savings for healthcare systems." Work is ongoing to demonstrate the generalisability of this pathway across the different hs-cTn assays available.
One of the most notable findings from the trial for Prof. Mills was the rate of adherence to the pathway, which was between 86% and 92% for three prespecified adherence measures. "That is absolutely remarkable," he says. "Usually, when you change care pathways, some clinicians are reluctant and continue their usual practice. The high adherence to the pathway is one of the main reasons that implementation was so successful. And we think that the adherence rate is testament to the pathway being simple, pragmatic and easy for clinicians to adopt." Hints from qualitative research conducted by the group suggest that patients are also in favour of this approach. "With a standard-care pathway, patients frequently see different doctors at different times and are often left confused about the information they receive. Our pathway involves a single healthcare provider who is responsible for the decision-making and patients feel more confident about the advice they are given."
Prof. Mills is quite clear about what the results mean for clinical practice. "We've learned how to use hs-cTnI assays to their best effect. We should now move away from a single threshold to evaluate patients with suspected acute coronary syndrome, and this is likely to be increasingly reflected in clinical practice guidelines. All the trial sites have continued to use this approach to identify low-risk patients and we anticipate that these types of pathways will see widespread international adoption." The scientific basis for the early rule-out pathway adopted in the HiSTORIC trial is published simultaneously in Circulation.1
Click here to read other scientific highlights in the ESC Congress news.
Download the Monday Edition in PDF format.
Access all the resources from congress presentations on ESC 365.