Dear Friends and Colleagues,
The three renowned cardiovascular societies bring together the latest in cutting-edge cardiovascular science, with an Asia-Pacific focus.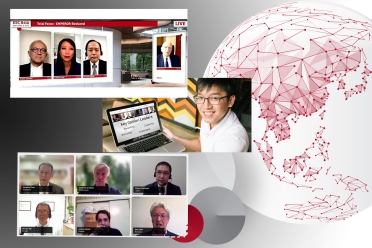 The congress features key presentations from ESC Congress, review the latest ESC Clinical Practice Guidelines in a regional clinical context, and highlight essential best practices to support Asian clinicians.
The programme include sessions covering the entire spectrum of cardiology (prevention, imaging, arrhythmias, heart failure, intervention and much more) with international experts, plus leading industry stakeholders.
Save the dates in your agenda for the next edition! ESC Asia 2022 with APSC and AFC from 1 to 3 December in Singapore and online.
In the meantime,ESC Profesional Members and FESC can review all presentations from previous editions on ESC 365, the Cardiology, Knowledge Hub.
See you Next December!

Professor Michel Komajda
Scientific Committee Co-Chairman
& Organising Committee Chairman
ESC Asia with APSC & AFC

Associate Professor Khung Keong Yeo
Scientific Committee Co-Chairman
ESC Asia with APSC & AFC
Organising Programme Committee
Michel Komajda, FESC - France - Chairman
Stephan Achenbach, FESC - Germany
Barbara Casadei, FESC - United Kingdom
Franz Weidinger, FESC - Austria
Rick Grobbee, FESC - Netherlands
Jack Tan Wei Chieh, FESC - Singapore
Anwar Santoso, FESC - Indonesia
Issei Komuro, FESC - Japan
Rungroj Krittayaphong, FESC - Thailand
Richard Ng - Singapore
Kenny Sin Yoong Kong, FESC - Singapore
Wael Al Mahmeed - UAE
Scientific Programme Committee
Michel Komajda, FESC - France - Co-Chairman
Khung Keong Yeo, FESC - Singapore - Co-Chairman
Stephan Achenbach, FESC - Germany
Barbara Casadei, FESC - United Kingdom
Franz Weidinger, FESC - Austria
Rick Grobbee, FESC - Netherlands
Bernard Iung, FESC - France
Christophe Leclercq, FESC - France
Maria Rubini, FESC - Germany
Victoria Delgado, FESC - Netherlands
Wael Al Mahmeed - UAE
Junya Ako, FESC - Japan
Derek Chew, FESC - Australia
Takashi Akasaka, FESC - Japan
Park Kyung-Woo, FESC - South Korea
Lin Yen-Jiang, FESC - Taiwan
Sofian Johar, FESC - Brunei
Arintaya Phrommintikul - Thailand
Carolyn Lam, FESC - Singapore
Quang Nguyen - Vietnam
Sazzli Kasim, FESC - Malaysia
Lim Toon Wei - Singapore