Meet the ESC Gold Medallists: Professor Bertram Pitt
26 Aug 2023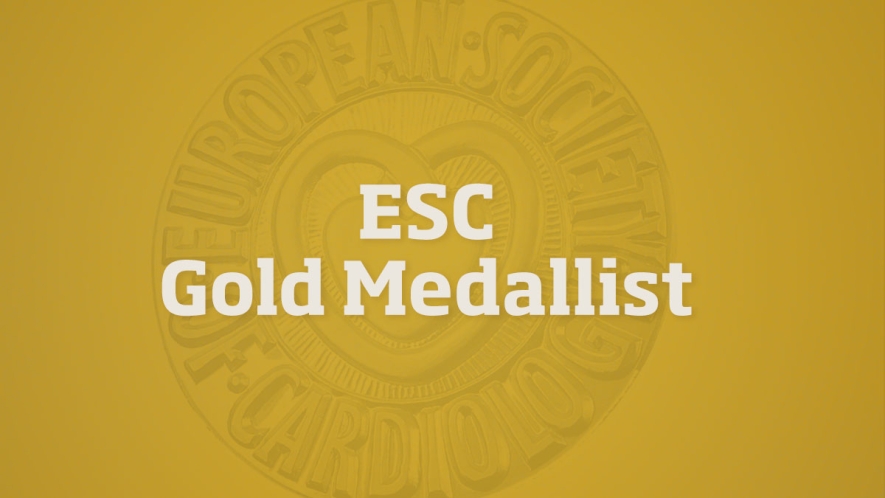 ESC Gold Medallist 2023

Professor Bertram Pitt (University of Michigan - Ann Arbor, USA) is a pioneer in heart failure (HF) treatment who has led pivotal clinical trials that have helped to establish at least two of the four central pillars of contemporary HF management.
What inspired you to specialise in cardiology?
I think that the initial trigger came from my medical school graduation thesis. In collaboration with a young, inspirational cardiologist named Doctor Walter Schweizer, who had trained with Doctor Paul Wood in the UK, I wrote a paper on coronary collateral flow. This was published in Circulation under the Editorship of Doctor Herman Blumgart, who was then Professor of Medicine at Harvard and Chief of Medicine at Beth Israel Hospital, Boston, and who shared my opinions on the existence of functional collaterals. It was our mutual interest in this area that led to my getting a residency in internal medicine at Beth Israel Hospital. From there I went into the army, where I worked with Doctor Donald Gregg on research into coronary flow. I then completed my cardiology fellowship training at Johns Hopkins University, staying on the faculty until 1977, when I took over the leadership of the Department of Cardiology at the University of Michigan.
What are your main career achievements to date?
Over the years, I've been very fortunate to run several large national and international trials in HF. The SOLVD trials established the role of angiotensin-converting enzyme (ACE) inhibitors in HF1 and the subsequent ELITE 2 trial found that angiotensin receptor blockers did not improve the survival benefits of ACE inhibitors.2 It was being asked to lead the RALES trial with spironolactone3 that started me on a research path into aldosterone and aldosterone antagonists that I continue to tread to this day. The results of the trial confounded the expectations of the clinical world – we were able to overcome concerns about tolerability, particularly hyperkalaemia, by using a lower dose of spironolactone than had been previously investigated and demonstrated a reduction in mortality. The RALES trial, together with the EPHESUS and EMPHASIS-HF trials with eplerenone,4,5 led to mineralocorticoid-receptor antagonists (MRAs) being designated a Class I indication in both European and US guidelines on HF treatment.
More recently, we have shown improved CV outcomes with the non-steroidal MRA, finerenone, in the FIDELIO-DKD and FIGARO-DKD trials in patients with chronic kidney disease and type 2 diabetes.6,7
I am also proud of the work that my son, Professor Geoffrey Pitt, is doing as Head of Cardiovascular Research at Weill Cornell University in New York. It is one of my greatest achievements that he is doing much better than I am!
What are you working on at the moment?
My involvement in running trials has given me the opportunity to collaborate with lots of great people around the world and I continue to enjoy that today. We are now working on other newer non-steroidal MRAs and also aldosterone synthase inhibitors. We are actively investigating mineralocorticoid receptor blockade in resistant hypertension.8 This is stimulated by research indicating that, due to a very high incidence of unsuspected primary aldosteronism and mineralocorticoid receptor upregulation, patients are exposed to the adverse effects of aldosterone and may benefit from MRA treatment. In addition, I am interested in the intersection between HF and cognitive dysfunction. We all know that some of our HF patients have cognitive decline but there is currently nothing to treat it. Our work involves investigating the microbiome – the gut–heart link and the gut–brain link – and looking at pharmacological interventions that may help to reduce cognitive decline in HF in the future.
"Take it from a 91-year old, there is no age limit to coming up with good research ideas. But although work is fun, family is just as important and you need to strike the right balance."
References
1. SOLVD Investigators. N Engl J Med. 1991;325:293–302.
2. Pitt B, et al. Lancet. 2000;355:1582–1587.
3. Pitt B, et al. N Engl J Med. 1999;341:709–717.
4. Pitt B, et al. N Engl J Med. 2003;348:1309–1321.
5. Zannad F, et al. N Engl J Med. 2011;364:11–21.
6. Bakris GL, et al. N Engl J Med. 2020;383:2219–2229.
7. Pitt B, et al. N Engl J Med. 2021;385:2252–2263.
8. Pitt B & Bakris GL. Eur Heart J. 2023, doi: 10.1093/eurheartj/ehad299. Online ahead of print.