Join forces at ESC Congress 2023 – unite as one global cardiovascular community
25 Aug 2023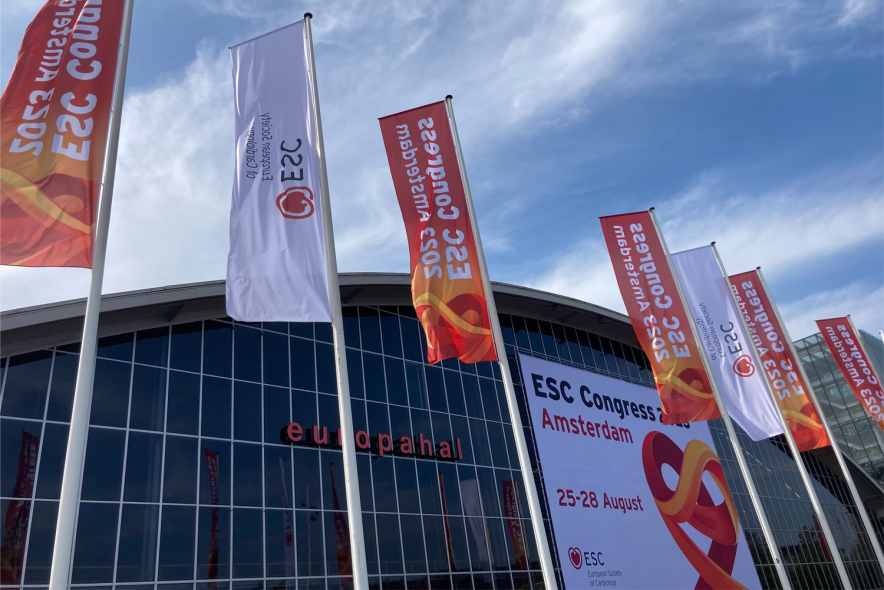 Entrance-flags-ESC-Congress-2023 - 1500x1000.png

"All year we work in our teams at our hospitals or clinics and laboratories, but at ESC Congress, we can come together to form wider connections that enrich our knowledge, and stimulate new ideas and collaborations," says ESC President, Professor Franz Weidinger, as he welcomes all to Amsterdam, onsite and online.
And what does this year's programme have to offer? Professor John McMurray, ESC Congress Programme Committee Chair, explains, "The spotlight is on heart failure (HF), a field that is relevant to all areas of cardiology and where there has been tremendous progress over the last few years. The fast-paced nature of HF research is evidenced by the need for a 'focused update' to bridge the gap between the 2021 ESC Clinical Practice Guidelines and the next scheduled edition. This will be presented in addition to four brand-new full ESC Clinical Practice Guidelines."
Prof. McMurray is keen to point out that the programme also covers the whole spectrum of cardiology. "Looking at the 9 Hot Line sessions, for example, we have exciting new data on acute coronary syndromes, coronary intervention, acute and chronic HF, atrial fibrillation – both anticoagulation and ablation – pacing and cardiac resynchronisation therapy, cardiac arrest and resuscitation, shock, amyloidosis, myocarditis, cardio-oncology and COVID-19. And across the programme, including the 17 Late-Breaking Science presentations, data from 115 clinical trials, trial updates and registries will be discussed."
The big data does not stop there – 3,500 abstracts will be presented by 3,000 investigators from 86 countries and there will be 240 intriguing clinical cases presented in the Research Gateway. Almost 200 plenary educational sessions have been planned by the expert team of the Congress Programme Committee, including 18 'Great Debates' on controversial and timely topics, such as embolic protection during TAVI, whether we should trust AI in cardiac imaging, and the value of targeting triglycerides to reduce CV risk. And the committee is also helping healthcare professionals to put this cutting-edge information into context, notes Prof. McMurray. "New to the congress this year is a Clinical Implementation Track, which will provide guidance on how treatments, techniques and guidelines should be used in clinical practice," he says, concluding, "Whether you are in training or are already in practice and want to stay on top of your game, ESC Congress 2023 is the place to be." Let's inspire – and be inspired together!