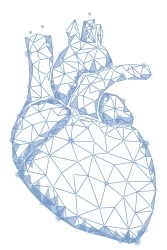 EuroGUCH 2021 will be held online which will give another dimension to our event.
This year, the programme will be organised into sessions, moving through the different stages and issues patients born with congenital heart disease face as they survive to adulthood.
You will be able to attend rapid-fire sessions, case-based symposia and debates to allow intense interaction between the audience and experts in various fields of congenital cardiology and also in-depth discussion of ongoing questions.
Call for abstracts
Abstract submissions are now closed.
Important dates and deadlines
18 February 2021: Abstract submission extended deadline
22 March 2021: Abstract notification to authors
14 April 2021: Presenting authors registration deadline
26 April to 3 May 2021: Uploading of posters to the Poster Gallery
Registration
The conference will be streamed online through the EuroGUCH Virtual Platform.
You will be able to ask questions in real-time, connecting attendees from all around the globe.
Important deadlines:
3 March: Early fee registration deadline
25 April: Late fee registration deadline
The 12th European Meeting on Adult Congenital Heart Disease (EuroGUCH 2021), 4-5 May 2021, has been accredited by the European Accreditation Council for Continuing Medical Education (EACCME®) with a maximum of 9 European CME credits (ECMEC®s). Each medical specialist should claim only those hours of credit that he/she actually spent in the educational activity.
From the Committee
Dear Members of the ACHD community,
In this unusual year in which many scientific conferences have been cancelled or switched from face-to-face meetings to virtual meetings due to the coronavirus pandemic, we are very pleased to announce that the Working Group on Adult Congenital Heart Disease is planning to organise the virtual edition of the 12th Annual Congress, EUROGUCH 2021.
The meeting will cover the different stages and issues patients born with congenital heart disease face as they survive to adulthood. Initially, the challenges of the organisation of healthcare and diagnostic approach evolved to incorporate the most modern non-invasive diagnostic tools. Later, our adolescents and young adults, and with them, their physicians, faced the risk of arrhythmias, sudden cardiac death and thereupon re-interventions and its indications. And finally, as ACHD population ages, the management of co-morbidities and heart failure or advance care planning has to be an integral part of the comprehensive care for adults with congenital heart disease.

On behalf of the ESC Working Group on ACHD Nucleus and the Conference Scientific Committee

Pastora Gallego, Local Host
Jolien W Roos-Hesselink, ESC WG ACHD Past-Chairperson 2020-2022
Gerhard P Diller, ESC WG ACHD Chairperson 2020-2022
Laura Dos Subira, ESC WG ACHD Nucleus Member 2020-2022
Become a member
This course is organised by the ESC Working Group on Adult Congenital Heart Disease.
Not a member yet? Join today for free.
Meeting Secretariat
BCO Congresos
Plaza de Europa, 17-19
08908 L'Hospitalet de Llobregat
Barcelona (España)
Contact us
Please do not hesitate to contact the ESC Working Groups department for more information