China – Euro-Sino College
The Euro-Sino College is organised by the Chinese Medical Doctor Association and jointly endorsed by:
European Society of Cardiology (ESC)
Chinese Society of Cardiology (CSC)
Chinese College of Cardiovascular Physician
Chinese Society of Pacing and Electrophysiology
The objectives of this Euro-Sino College are as follows:
Provide an official and high-quality training platform for Chinese cardiologists
Contribute to the lifelong learning needs of Chinese cardiologists
Aim to elevate the professional competence of Chinese cardiologists, thus ultimately improve the overall quality of cardiovascular care in China
Enhance long-term collaboration between European and Chinese cardiology societies
6 online schools for online (e-learning modules) and & 6 offline (live educational seminars) courses:
Euro Sino College 2015
Here is a view of the 6 Schools organised in 2015
1. Anticoagulation School:
ESC Chair: Prof Panos Vardas, FESC
CSC Chair: Prof Jun Zhu
2. Blood pressure School:
ESC Chair: Prof Roberto Ferrari, FESC
CSC Chair: Prof Ningling Sun, FESC
3. Cardiovascular Imaging School:
ESC Chair: Prof Fausto Pinto, FESC
CSC Chair: Prof Shuyang Zhang, FESC
4. Interventional School
ESC Chair: Prof Steen Kristensen, FESC
CSC Chair: Prof Yundai Chen, FESC
5. Ischaemic Disease School
ESC Chair: Prof Michel Komajda, FESC
CSC Chair: Prof Yujie Zhou
6. Lipids and Artherosclerosis School
ESC Chair: Prof Lale Tokgozoglu, FESC
CSC Chair: Prof Hong Chen, FESC
Euro Sino College 2016
The programme is currently being finalised…
For more information
India – International Fellowship programme
The International Fellowship programme began in 2014. It is a joint initiative between the European Society of Cardiology (ESC) and the Cardiovascular Society of India (CVS of I) which is a respected association of cardiovascular professionals and organiser of a leading cardiovascular conference in India.
It's main objective is to provide the ESC with a way of upholding and expanding the professional qualities of the Society and of integrating various national activities to a greater degree within the International scene.
The designation of the International Fellow title honours Indian members who have made outstanding contributions in the field of Cardiology. This title is based on professional scientific or clinical merit and testifies one's commitment and achievement within the world of Cardiology.
The CVS of India jointly organises with the European Society of Cardiology the yearly ESC Cardiovascular Association of Diabetes (CAD) International Fellowship Meeting dedicated to the newly elected International Fellows. The CAD Meeting is a scientific event open to all International Fellows of India where they also receive a diploma recognizing this important achievement.
There are 2 categories: Associate International Fellows and International Fellows depending on different criteria for both.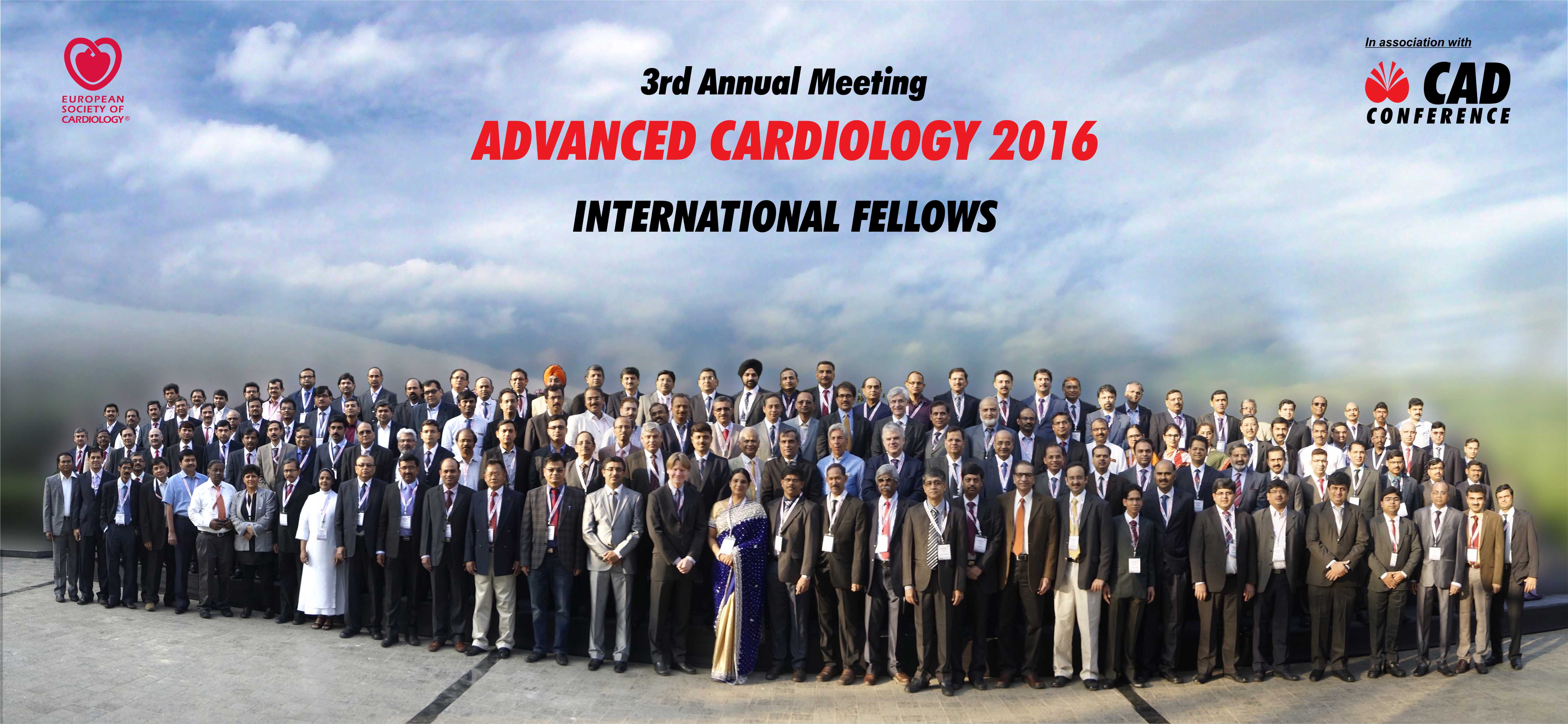 Saudi Arabia – ESC in Dammam
Since 2014, the Saudi Heart Association has invited the European Society of Cardiology to organise a Joint dedicated meeting in Dammam on a yearly basis.
This year, the 3rd ESC-SHA Joint Meeting will be held at the Sheraton Hotel, Dammam, from 13th to 15th November 2016. It will be focused on clinical updates with clinically oriented topics and interactive case based discussions. Three Clinical Workshops (transesophageal echocardiography, electrocardiography and cardiac imaging from computed tomography to optical coherence tomography) will precede the Joint Meeting.
The philosophy of this annual ESC-SHA meeting is to produce a state of the art assembly of Cardiologists and other practitioners interested in cardiology with world experts from European Society of Cardiology and Saudi Heart Association.
For more information about past events