Purpose of FEHRA

In 2016, the European Heart Rhythm Association introduced the title 'Fellow of the European Heart Rhythm Association' (FEHRA) as an honorary recognition of status for its most prominent members.
The title recognises EHRA Members who have made exceptional contributions to cardiac rhythm, distinguishing themselves in clinical, educational, and organisational aspects of the field.
Privileges and benefits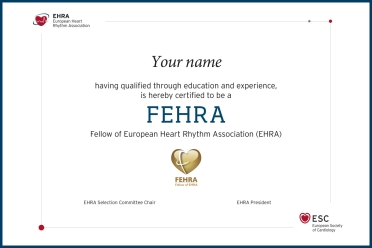 Use of the FEHRA title with signature
Complimentary EHRA Gold Membership benefits (e.g. print and online access to EP Europace)
50% discount on the EHRA online congress registration fee
Access to all EHRA content on ESC 365
Access to EHRA Members' lounge during EHRA congresses
Electronic fellowship diploma
EHRA pin recognition
Leading and mentoring* roles in EHRA initiatives and activities
Online access to the Fellows Directory
*If you wish, we can share your contact information with the EHRA Young EP Community.
Savings
FEHRA privileges and benefits listed herein are worth over € 1,000 but are included in the annual fellowship fee of €308 (incl. VAT).
FEHRA qualifications
Candidates who wish to become a Fellow of the EHRA must be EHRA Members who have demonstrated excellence in at least one of the following three domains of cardiac rhythm: research at national or international levels, teaching and, training and clinical care
Candidates must submit:


copies of academic diplomas (MD, PhD, or equivalent). Original document accepted;
at least 10 publications with the applicant as first or last author ­– with a cumulative impact factor of 40 – available via PubMed;
one supporting letter from either an EP president within his/her National Cardiac Society/working group or from an EHRA Board Member;
a short CV.
Please note that all supporting documents referred to herein are mandatory.
Online application procedure for FEHRA
Not yet an EHRA Member? Join here
Emeritus FEHRA - EFEHRA
The status of EFEHRA will be conferred by the EHRA Selection Committee upon written request of the FEHRA when he/she reaches the minimum age of 65 years and retires from full-time work. Proof of retirement should be provided to the EHRA Team.
An Emeritus Fellow retains the title of FEHRA but is no longer required to pay the annual FEHRA fee.
He/she is entitled to attend the EHRA congress at a reduced registration fee.
The status of EFEHRA will not be offered to Fellows with outstanding FEHRA fees unpaid.
In 2021, Profs. John Camm and Federico Lombardi became EFEHRA.