ESC Guidelines Implementation Toolkit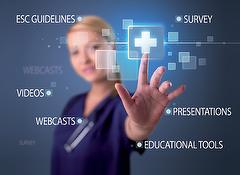 The concept of this ACNAP Be Guidelines Smart Toolkit was developed to ensure that all nurses and allied professionals across Europe are trained to use the latest ESC Guidelines.
Discover the ESC Guidelines Implementation Toolkit!
Videos
Memo Card NEW!
Webinars
Webcasts
Survey
ESC Guidelines resources
Awareness and Educational resources
Videos
This set of six videos illustrates ESC Guidelines implementation in nurses daily practice!
NEW! Choose the language of your choice to watch the videos!
Webinars
Discover the ACNAP Be Guidelines Smart Webinars
Webinars on demand
Adherence to treatments for dyslipidaemia and cardiovascular disease
Join Dr's Catriona Jennings, Rani Khatib and Ms Jan Keenan
Learning Objectives:
Understand the definition and importance of adherence to medical therapies used to treat cardiovascular disease and dyslipidaemia
Learn about the patterns of adherence
Find out about effective strategies to manage adherence including providing information, education, monitoring, and support for patients and families
Optimising Self Care in Chronic Illness
With Prof. Tiny Jaarsma, Prof. Anna Stromberg and Prof. Ekaterini Lambrinou.
Aired live on Monday 27 March 2017

Webcasts
On-line survey
Learn more about this survey about the implementation of the European Society of Cardiology Guidelines: read this update by Professor Gabrielle McKee
ESC Guidelines Resources
Train the Trainers Workshop
In December 2017, CCNAP organised a two half-day workshop to train selected nurses and allied professionals how to use the latest ESC Guidelines.
Other Educational resources