This course describes the organization of the Emergency Medical System (EMS) and how it provides treatment to those in need of urgent medical care and/or transport to the next point of appropriate care
The topic takes readers through the principals of the EMS structure, its goals and the different regulations
This topic introduces the subject whilst offering links to more detailed information for the avid reader.
This content offers the learner a focused and interactive educational experience based on the ESC Textbook of Intensive and Acute Cardiovascular Care, 2nd edition 2015 / Chapter: The Emergency Medical System by Marc Sabbe, Koen Bronselaer, and Olovier Hoogmartens.
What's inside?
2 courses on:
Introduction
The Emergency Medical System and Cardiac Examples
Each course ends with a MCQs test.
How to access online courses?
Make sure to log in with your My ESC account (Username and Password) to access topics included in your membership level.
You do not have a My ESC account? Create an account.
Preview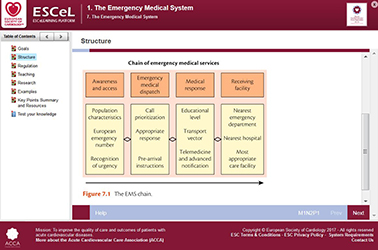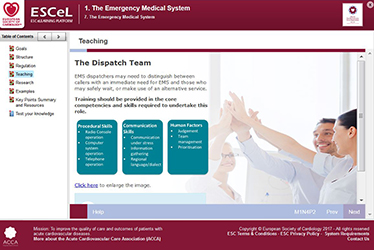 Contributors
Course Co-ordinator
Susanna Price
Sofie Gevaert
Course Contributors
Shona Love
Chiara Cirillo
Miriam Conway