ESC Core Curriculum for the Cardiologist - 2020 Edition
Read the ESC Congress news article
Click here for subspecialty core curricula -->
What's new in the 2020 Edition of the ESC Core Curriculum?
9 chapters
Updated UEMS European Training Requirements (ETR) for training centres
A new framework to organise, assess, and certify trust in trainees
Entrustable Professional Activities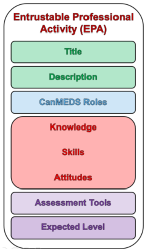 The clinical competencies for evaluation and care of patients with cardiovascular diseases are described as Entrustable Professional Activities (EPAs).
EPAs are units of professional activity focusing on clinical skills, but also incorporating the related knowledge, adequate attitudes, and professional roles in a holistic clinical context.
EPAs can be overseen, assessed, monitored, documented, and certified. They represent an excellent instrument for developing and documenting trust in our trainees. At the same time, EPAs provide a framework to build a robust, trustworthy training programme.
National perspectives on ESC Core Curriculum
Patients and Young Community perspective on ESC Core Curriculum
Useful links