Description
The following case shows a patient with a severe secondary mitral valve regurgitation due to ischemic heart disease with a history of recurrent cardiac decompensation who is selected for a percutaneous mitral valve repair due to a high perioperational risk.
2D transthoracic Echocardiogram showing a severe mitral regurgitation. The mechanism of the disease and the severity and the regurgitation can be difficult to evaluate with conventional 2D Imaging alone.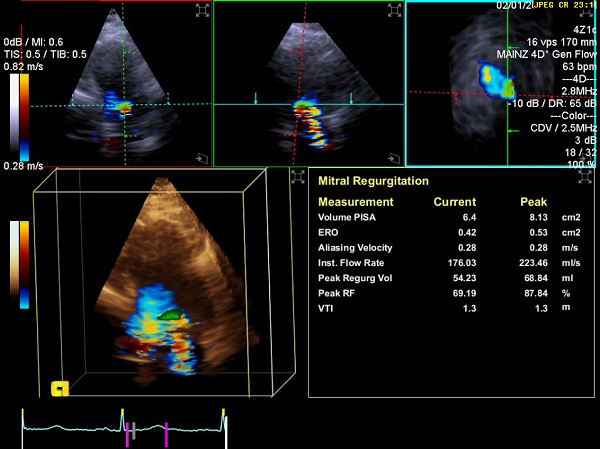 3D echo calculation of the regurgitant effective orifice. The incorporation of 3D imaging can improve the evaluation of mitral valve disease and help to reach a more comprehensive assessment of both disease mechanism and severety.


TEE imaging with a 3D probe showing ortogonal planes of the regurgitant jet. This allows a better demonstration of the mitral regurgitation jet.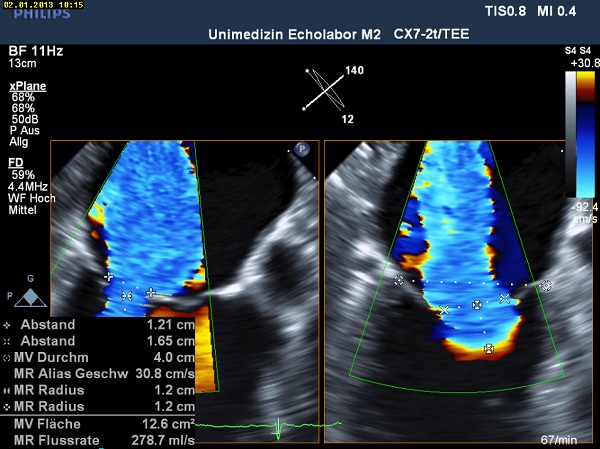 Evaluation of the regurgitation by measuring the vena contracta and the effective orifice area in the two orthogonal planes by TEE.


Evaluation of the mitral valve morphology by 3D TEE. There is a sclerotic nodule in the medial portion of the posterior leaflet and a plication of the anterior leaflet.


3D TEE evaluation of the regurgitant jet. The image has lesser morphologic details but shows clearly a wide jet with a origin along all the valve closure line.
3D TEE during mitraclip implantation procedure showing the guidance of the interventional catheter.


Exact positioning of the device guided by 3D TEE.


The final result evaluated by 3D TEE.


Mitral regurgitation one month after the procedure. The devices are in a stable position and the mitral regurgitation has decreased substantially. The patient clinical status also improved.
Conclusion
Real-time three dimensional echocardiography has become an invaluable tool in the routine clinical assessment of cardiac pathologies and guiding the new interventional approaches.
It enables accurate patient selection and improves the safety and risk of the interventional procedures not only by reducing the radiation dose for patient and staff.
With the growing field of interventional cardiologic procedures, 3D echocardiography will most probably become even more important.