MCE - REST images
Flash imaging at rest, normal replenishment within 5 cardiac cycles. See below for still images of this movie.
A: Pre-flash Normal perfusion in all walls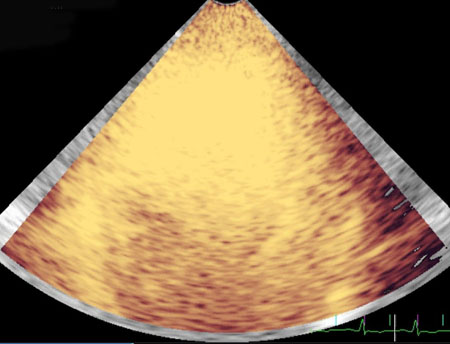 B: Flash impulses to destroy contrast in myocardium


C: Post flash myocardium is black due to bubble destruction
D: Normal replenish-ment within 5 beats
MCE - STRESS images
Flash imaging after dipyridamole stress. Note the clear subendocardial perfusion defect - see below for the still images from this movie.


Pre-flash normal perfusion in all walls
High MI flash frames
Post-flash frame confirming good bubble destruction
Extensive perfusion defect (delayed refilling) extending from mid-apical septum through entire lateral wall