List of Abbreviations:
SoMe = Social Media
CV= Cardio Vascular
FB = Facebook
Keywords
Twitter, Social Media, Cardiotwitter, Case reports, #ESCdigital
Introduction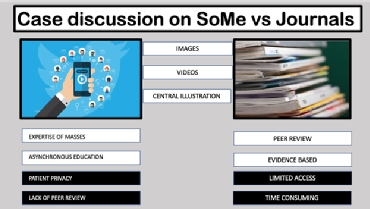 Case reports are amongst the oldest forms of medical literature, where physicians such as Hippocrates and Galen carefully described physical manifestations of the disease state, with their classical texts containing amongst the first documented descriptions of heart failure and diseases of the circulatory system. This was despite their limited pathophysiological understanding of the underlying disease processes. Such case reports formed the mainstay of medical education in the ancient world, and formed the basis for the development of the scientific theory of disease development, progression and prognosis. With a greater understanding of the physiology and pathophysiology of the human biology, and the development of the principles of robust scientific clinical method and trial design, the importance of case reports in the advancement of medicine has diminished. In more contemporary practice than that offered by Hippocrates or Galen, case reports are considered vehicles to describe rare manifestations of common diseases, or more commonly clinical presentations of rare diseases with their educational content limited to niche areas of medicine. This is changing. With the evolution of cardiovascular medicine, particularly in the era of social media, case reports have found new online platforms for sharing. They form an important vehicle for clinical education, whereby clinical cases can be enriched with multimodal content in the form of videos, images and provide an opportunity for active case discussion in a global platform, which can be placed in the context of international guidelines, clinical research and late breaking trials all in real time. The social sharing of such patient stories has its own set of challenges.
#Cardiotwitter: Advancing medical education through cases
In recent years, social media particularly #cardiotwitter has been transformative with data sharing in the field of cardiovascular (CV) medicine(1). #Cardiotwitter provides flattened hierarchy on a social media platform that allows content sharing globally. This "democratization of voices" has created a vibrant twitter sphere of academic discourse. Interesting, uncommon, and perplexing cases can be readily shared worldwide, resulting in a rich online repository of angiograms, echocardiograms, and other cardiovascular imaging. Such medical content shared across social media (SoMe) platforms enhance medical education both in terms of learner satisfaction and collaboration(2). SoMe has been adopted by many graduate medical programs as a powerful adjunct to conventional medical education(3). Case vignettes or case discussions are a predominant part of educational exchange on SoMe.
Advantages of Case Presentations on SoMe
Expertise of the masses
One of the biggest advantages of sharing clinical vignettes on SoMe is the crowdsourcing of medical knowledge from across the globe representing thousands of years of medical expertise amongst a large community of medical professionals across the globe. Many of the contributors to this crowd sourced knowledge are guideline writers, clinical trialists and experts in all subspecialties of medicine, with much of this crowdsourcing of knowledge a collaboration across different health care professionals and specialties. Now with use of subspecialty specific hashtags- the content related to such clinical cases is increasingly searchable (1). Good SoMe educators, also provide scientific reasoning behind the decision making or diagnosis with particular reference to international guidelines and clinical trials. This is a dynamic process that evolves with what is considered best practice in line with the ever-changing evidence base that drives clinical medicine. (Central Illustration)
Variation in the type of educational content
Academic journals deliver educational case reports in a fixed format that is fairly constant amongst different publishers of this educational content. There are no opportunities to interact with this content and no opportunities to provide an active learning experience or utilise multi-modal content. Social media allows clinical cases to be discussed in a number of different formats including tweetorials, polls or more traditional abbreviate case descriptions with multimodality content including videos, images, gifs with links to other resources across the web. Often educational content is posted as a combination of the above, and importantly this content is dynamic and evolving that can change on a minute-by-minute basis rather than remaining static as in the traditional publication model that has no evolved over thousands of years.
Asynchronous education
One of the advantages of discussions on SoMe is its freedom from the limitations of time, with no limitations placed on the availability of place, person and location for educational opportunities. Interaction between clinicians can occur at any point in time, facilitating the dynamic educational exchange of good clinical practice amongst clinical professionals. Educators and learners can change roles dynamically according to their expertise in the clinical cases discussed, with the amount of time dedicated to educational opportunities and roles within these endeavors' dependent on the end users themselves. The end users determine whether they take an active or passive role in the provision of this educational content and whether this wish to engage at all. (Central Illustration)
Data sharing on Social Media
While the benefits of social media for interactive case discussion, education and collaborations are undeniable, the benefits must be weighed against respect for patient privacy. Although online cases have the significant potential for learning, through the creation of a network of collaborators and facilitation of communication with leaders in the field, it is important to remember that legal and ethical issues of patient privacy that govern the use of patient data in these public fora. Case discussion on SoMe must be balanced against patient privacy. Whilst traditional journals will often require evidence of patients consent for publication of such cases, social media does not mandate this. Anyone ion the world can post cases online instantaneously with no balance of checks by a gate keeper. In essence social media is unregulated. Physicians must be aware that any content that can be used to identify the patient, can have major legal implications both for them and their institutions. To maintain patient confidentiality, it is important to ask the following questions before sharing patient data on SoMe:
Is it necessary? Avoid posting, if it is just for the "wow" factor
Did I take the consent of the patient?
Always take written (preferable) or verbal consent of the patient for sharing their images and document this in the patient's clinical notes. It is imperative to make sure that patients fully understand what is meant to consent to share content about their clinical case online and the potential consequences (but also the value).
Can it be used to identify the patients?
Remember that under Health Insurance Portability and Accountability Act (HIPAA), the protected health information (PHI) of cases is not enough to prevent the identification of the patient.
Am I giving specific details about the patient?
Age, gender, symptoms, pathology can be used to identify the patient. These details should be avoided. Hence clinical vignettes describing the main pathology without personal details is advisable. Avoid posting rare cases.
Can I avoid contemporaneous posting of the case?
Allowing for a lead time avoids the exact identification of the patient
Is it compliant with my institutional policy?
It is important to review institutional SoMe policy and abide by it
Am I being respectful to the patient and family?
SoMe platforms are accessible by public, any impolite comments towards patients can harm the reputation of the physician and the profession as a whole.
Publication of clinical cases in traditional journals
Case report journals publish rare case presentations describing the whole diagnostic pathway with follow up. The biggest advantage of case reports in traditional academic journals is the peer review process that precedes the publication ensuring the accuracy of the interpreted data (Central Illustration). This will often ensure that the discussions are scientifically robust and provides a gate-keeping role against the publication of scientific misinformation. This however may introduce bias of the peer reviewers and bias publications towards only the most esoteric and rare cases, with little opportunity to publish more common presentations of commonly encountered clinical cases. Many of the case report journals are open access meaning that clinicians may often only contribute to the literature if they work in healthcare systems that have the financial means to support the publication of such content.
Conclusion

Social Media is a global platform that enables the delivery of medical education through clinical cases allowing for dynamic exchange of educational content in real time between end users and providers through tweetorials, polls and traditional case descriptions. Social media enables educational content to be enhanced through the inclusion of multimedia content including images, videos and web-based resource materials. Educational content posted in SoMe is dynamic and enjoys rapid dissemination engagement online rather than the more static content published in more traditional peer reviewed journals. Whilst educational content posted on SoMe has several advantages over peer-reviewed journals it lacks rigorous peer review and content may breach patient privacy. We offer a framework for patient data sharing on social media.
Declaration of Interest
Dr. Parwani serves as a Social Media Consultant to Journal of American College of Cardiology
Dr. Mamas serves as a Social Media Editor to the European Society of Cardiology