COVID-19 (coronavirus)
It is with great regret that I inform you that Heart Failure 2020 & World Congress on Acute Heart Failure, scheduled for 23–26 May in Barcelona, is officially cancelled.
The leadership of the ESC and the Heart Failure Association (HFA) have been closely following the current health crisis. The spread of COVID-19 around the world and the necessity for healthcare professionals to deal with the epidemic in their hospitals has impacted the availability of both faculty and delegates. Indeed, many have already cancelled their plans to attend – and that number will only grow. In addition, the Spanish authorities have declared a state of emergency while the Catalan government has imposed a total lockdown and severe travel bans.
As a result of these factors and our responsibility to protect the health of our faculty, delegates and staff, the HFA leadership has decided that cancelling Heart Failure 2020 is the only responsible course of action.
Should you have any queries, please refer to the FAQ.
On behalf of the HFA Board, we convey our heartfelt wishes to you, your families and your patients in these difficult times.
Petar Seferović
ESC Heart Failure Association
President, 2018–2020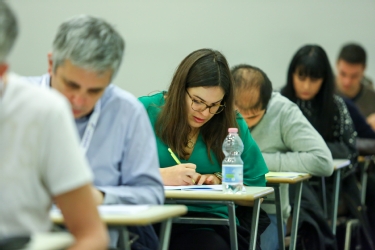 This is an excellent milestone for HFA members to enhance their career path.
Heart failure certification proves to your profession that you have achieved a certain level of competence.
What are the benefits of HFA certification?
Heart failure cardiologists require specialist knowledge to help them deliver optimal patient care. The HFA knowledge-based certificate shows that the candidate has achieved an advanced level of competence in the heart failure field. Successful candidates will receive a certificate of completion of the knowledge-based component of the Heart Failure Curriculum.
Registration information
This exam has been cancelled.
The exam was scheduled to be delivered in person at Heart Failure 2020 congress in Barcelona, as well as on computers, in Pearson VUE testing centres, in six countries:
Testing centres should be available in those countries in capital or major cities. For example:
Beijing (China)
Seoul (Korea)
New Delhi (India)
Tokyo (Japan)
Mexico City (Mexico)
Sao Paulo (Brazil)
Locations may change, subject to seat availabilty. Consequently you may have to travel farther from your location.
The ESC will not cover any accommodation or travel you might need.
Asia: exams registration
The registration period is closed.
Latin America: exams registration
The registration period is closed.
Ten seats are available in each country, on a first come, first served basis, once registration is open.
Certification process
Exam structure
The examination is held once a year
The examination is in English
The duration of the written examination is three hours
The questionnaire is compiled by the HFA Certification Committee and consists of 100 multiple choice questions (MCQs) with five options, based on single best answer (no negative marking)
Questions are based on, and will cover, the Knowledge Base outlined in the Specialist Heart Failure Curriculum
How to prepare for the examination?
Results
The exam is marked electronically and the results are verified and checked by the committee.
Results are sent by email within two months after the exam date.
Appeal process
On the exam day, in case of issue with the scientific content of the exam:
A complaint must be logged on-site. The appeals procedure will be recorded only if candidates have filed an official complaint on the day of the exam. Under no circumstance will you be entitled to a fee refund nor damages.
After having received your results:
If you believe that an incorrect result has been awarded to you, you may lodge an appeal by sending to the ESC exam administration an official letter within 8 days of receiving your scores, via the ESC contact us form. The result of such appeal may be a higher grade, a lower grade, or no grade change. Under no circumstance will you be entitled to a fee refund nor damages.
Appeals process:
The ESC exam administration and relevant certification committee will reply within 4 weeks.
Reply from ESC exam administration and relevant certification committee is final. You agreed to this during the exam registration process by accepting the ESC exam delivery Terms and Conditions.

Appeals are free of charge.
Eligibility
You must be:
An HFA member. Join the HFA
A doctor with national board certification in cardiology (diploma) or a doctor in cardiology specialist training (fellows).
Fees
| Fee Types | Fees |
| --- | --- |
| Regular Member** | €456 |
| Silver & Gold Member** | €384 |
| Fellows of the HFA (FHFA)*** | €384 |
| Resit - Member* | €264 |
*Please note that the resit fee is strictly reserved and applied for candidates who have sat and failed the exam in the past.
**To benefit from Gold / Silver member fees you must be a validated Gold / Silver member before registering for the exam. For further information, please go to the membership page.
*** Only Fellows of the HFA (FHFA) can benefit from this fee. To benefit from FHFA fees you must be a validated Fellow of the HFA before registering for the exam. For further information, please go to the membership page.
Registration conditions
The exam is delivered locally in the country you have chosen. The location where you will take the exam is subject to seat availability in testing centres. You may have to travel further from your personal location. Your registration entails acceptance of these conditions.
Pearson VUE testing centres apply strict security rules that are available here. The important rules to remember are:

To enter in the exam room, you must provide an ID document with a photo. The name indicated on your ID document must be exactly the same you will provide us during the registration process. If any difference, you will not be allowed to enter in the exam room
You cannot bring any personal item in the exam room (phone, jacket, food,…). A personal locker will be made available to you for the whole duration of the exam
For any issue on the exam day, please log a case with the test centre staff. There is no other way for us to be informed of any issue you may have encountered.
A short video explaining what to expect when taking an exam in a Pearson VUE test centre is available.
General conditions
Payment
All registration fees are quoted in Euros and include national applicable VAT.
Payment in any other currency will not be accepted.
Registration will be acknowledged by email (within ten days) upon receipt of payment and a valid candidate email address (make sure your MyESC account profile is updated and ensure that no third-party email address is linked to your registration).
Cancellation policy
If a participant wishes to cancel his/her registration to the certification exam he/she should contact us.
Please take careful note that the cancellation policy on refunds is as follows:
| Weeks before the exam | % Refund |
| --- | --- |
| Up to 6 weeks before the exam | 90% |
| 6 to 4 weeks before the exam | 50% |
| Within 4 weeks before the exam | 0% |
| No show | 0% |
Please note that a "no show" is not considered a cancellation.
If you do not attend the exam without giving forewarning of your absence and without proof of good reason (unforeseen circumstances - such as a death in the family, serious accident involving the candidate...) no refund will be allowed.
In the unlikely event that the HFA cancels the exam, the full registration fee will be refunded. However, HFA is not liable for any cost incurred by the cancellation of accommodation and travel arrangements.

If there are any queries concerning visas problems, please contact us. Please note you are responsible for your visa applications and you must give at least two months preparation time to your respective embassy otherwise it is your concern if the visa is not granted in time.
By registering for the exam, each candidate waives his/her rights to claim for any compensation from the HFA. The organiser cannot be held liable for any hindrance or disruption of exam proceedings arising from political, social or economic events or any other unforeseen incidents beyond their control.
In no event will the HFA be liable for indirect damages or cost. All candidates are urged to take personal travel insurance. Registration of a candidate entails acceptance of these conditions.
Frequently Asked Questions (FAQs)