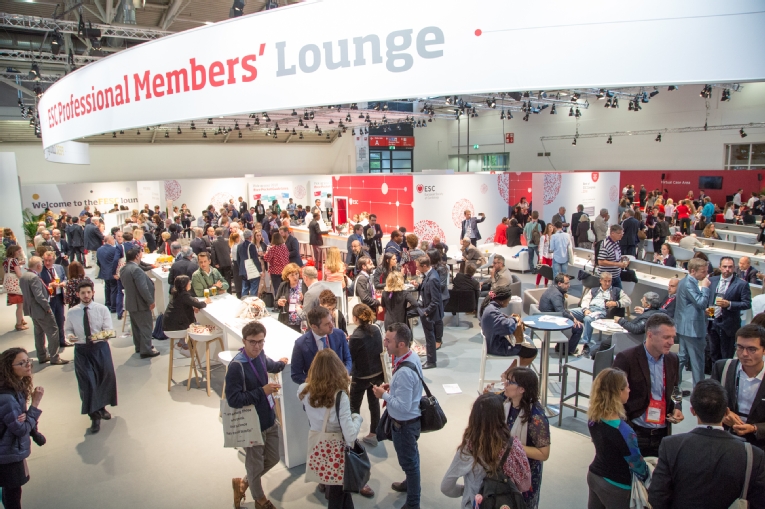 A place to relax and exchange ideas
One of the many benefits of being an ESC Professional Member is privileged access to the Members Lounge, which is open throughout the ESC Congress.
Not an ESC Professional Member yet?
Now is the time to upgrade! And if you register for ESC Congress before 21 August you can save on the onsite registration fee.
Opening hours
Saturday, 29 August–Tuesday, 1 September: 08:00–19:00
Wednesday, 2 September: 08:00–13:00
What you can expect inside the Lounge
Free printed copy of the latest 2020 ESC Pocket Guidelines
Be the first to pick up your FREE printed copy of the latest ESC Pocket Guidelines as part of your ESC Professional Membership. Available exclusively in the Lounge from Saturday 09:00. Don't miss out!
Networking events
Dedicated networking events with a focus on career development for ESC Professional Members take place throughout the Congress.
Inaugural networking event – Kick off your congress experience by connecting with fellow members.
Young community events
If you're under 40, the ESC offers a special programme tailored around career development needs.
Complimentary refreshments during Congress
If you need tea, coffee or just a break, the lounge is the place to head for!
Come and sit with colleagues to discuss the latest presentations or just to rest for a few minutes…
Business facilities
Enjoy free access to computers and printers to check your emails, review incoming presentations on ESC 365 (thanks to your ESC Professional Membership) and keep up on ESC events and activities.
Professional photographer available: look your best!
Need a profile photo for your publications, ESC member directory entry or for your online professional networking? Free portraits are available in the Lounge – all included in your Professional Membership benefits. It's first-come, first-served, with the photographer available as follows:
Saturday, 29 August – Tuesday, 1 September: 08:00–19:00
Wednesday, 2 September: 08:00-13:00
Certificate of Attendance
Collect your certificate of attendance in the Lounge starting Monday, 31 August.
Note: The Professional Members Lounge is accessible only to ESC Professional Members, FESC or those who have a combined ESC Professional Membership and Association Silver Membership. Non-members are not permitted to enter, even if accompanied by an ESC Professional Member.