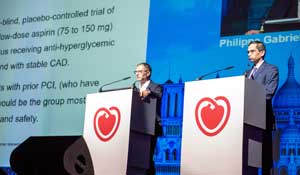 Professor Deepak L. Bhatt (Brigham and Women's Hospital and Harvard Medical School, Boston, Massachusetts, USA) describes the rationale for the study, which is the largest trial in type 2 diabetes to date. "Patients with both coronary artery disease (CAD) and type 2 diabetes mellitus are at very high risk of future cardiovascular (CV) events, such as myocardial infarction (MI) and stroke. In patients with acute coronary syndromes or prior MI, dual aspirin and ticagrelor therapy reduces the risk of recurrent events compared with aspirin alone. However, whether adding ticagrelor to standard-of-care aspirin results in similar benefits in patients with stable CAD and diabetes was not known. That is what THEMIS set out to investigate."
In this double-blind, placebo-controlled trial, 19,220 patients with diabetes and stable CAD (defined as a history of percutaneous coronary intervention [PCI], bypass grafting or angiographic stenosis of 50% or more in at least one coronary artery) from 1,315 sites across 42 countries were randomised to receive ticagrelor (60 mg bid for most of the trial) or placebo in addition to low-dose aspirin (75–150 mg). Patients with known prior MI or stroke were excluded. Patients were followed up for a median of around 40 months.
Adding ticagrelor to aspirin significantly reduced the study's primary efficacy endpoint of CV death, MI or stroke by 10% compared with placebo, with rates of 7.7% vs 8.5% (hazard ratio [HR] 0.90; p=0.038).
As presented by Professor Ph. Gabriel Steg (Hospital Bichat, Paris, France), it was the 58% of patients in THEMIS who had undergone previous PCI, the prespecified 'THEMIS-PCI' analysis, who appeared to benefit most. Dual antiplatelet therapy had no apparent effect in patients without a history of PCI.
Among the 11,154 patients in THEMIS-PCI, an intention-to-treat (ITT) analysis showed that adding ticagrelor to aspirin reduced the risk of the primary endpoint by 15% compared with aspirin—with rates of 7.3% and 8.6%, respectively (HR 0.85; p=0.013). The effects were apparent even when PCI was performed up to 10 years earlier. Of note, consistent benefits were observed across the ischaemic endpoints, including MI, ischaemic stroke, and acute limb ischaemia and amputation.
When the results of THEMIS PCI were analysed while patients were receiving treatment—rather than by ITT—all-cause mortality was significantly lower in patients receiving dual antiplatelet therapy. Prof. Bhatt cautions, "These findings should be interpreted with care because on-treatment analyses exclude patients who may have stopped treatment for a variety of reasons, including bleeding. However, they do show the potential survival advantages of this approach in patients who are tolerating and adherent to the treatment."
The primary safety endpoint of THEMIS was Thrombolysis in Myocardial Infarction (TIMI) major bleeding and in the study overall, the incidence was significantly higher with ticagrelor vs placebo (2.2% vs 1.0%; HR 2.32; p<0.001). However, when a composite of efficacy events and fatal or intracranial bleeding was evaluated, the net clinical benefit was favourable in THEMIS-PCI whereas it did not appear to be in patients without previous PCI (15% relative risk reduction vs 6% relative risk increase, interaction p=0.012).
Prof. Bhatt concludes, "The THEMIS analyses demonstrate for the first time that prolonged dual antiplatelet therapy with ticagrelor and low-dose aspirin has significant outcome benefits for patients with stable CAD and diabetes who have previously undergone PCI. It seems reasonable to consider this approach for patients at a low bleeding risk or those who have already tolerated this type of treatment for a period of several months, without having an episode of bleeding."
Click here to read other scientific highlights in the ESC Congress news.
Download the Monday Edition in PDF format.
Access all the resources from congress presentations on ESC 365.