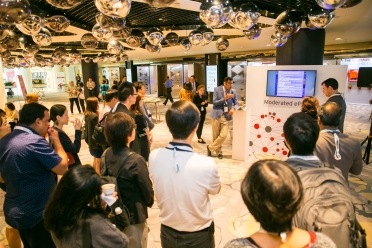 Share your work with peers and interact with experts from Asia-Pacific and beyond. Raise your profile among the community, and potentially be honoured with a prestigious award.
Not only will your science feature at the congress, but it will also be published in the European Heart Journal (Impact Factor 2020: 29.983) - abstract supplement (January 2023), and gain extra visibility on ESC 365, the cardiology knowledge hub.
Submission deadline is Thursday, 1 September 2022, 12:00 (noon) CEST. Don't wait until the last minute.
Key Dates
Wednesday, 6 July 2022 - Opening abstract submissions
Thursday, 1 September 2022 - Abstract submission deadline
Early October 2022 - Abstract results announcement. An email will also be sent to each submitter.
Mid November 2022 - Deadline to confirm presentation and register for the congress
Prepare your submission
Present your Research at ESC ASIA 2022 with APSC & AFC
All presentations are planned to take place in-person in Singapore.
After 2 years of distance exchange, we welcome the opportunity to re-unite the community and discuss science, findings and development in research, with peers and international experts.

Accepted abstracts will be organised in different session types throughout the programme:
Young Investigator Award (YIA) session
A session dedicated to young researchers aged under 40 - selected for the outstanding quality of their work, and presenting top research in the field. Please refer to the submission conditions.
All selected finalists will be receiving free registration to ESC Asia 2022 with APSC & AFC.
With the opportunity for the winner to receive
€500 Prize
Free registration to ESC Congress 2023 Online or Onsite
An award certificate
The runner up will be awarded a free registration for ESC ASIA 2023
NEW! Late-Breaking Science sessions
The option is reserved for submissions presenting recent findings in the field of Cardiology which can impact practice/research.
Select this option if you want your application to be considered for the Regional Late-Breaking Science session.
A dedicated Jury will be appointed for this selection.
Moderated Poster sessions
Present your research in a dedicated session moderated by two experts and interact with the audience on your work.
Moderated Poster presenters will also have the opportunity to upload an eVersion of their work to be featured post congress on ESC 365.