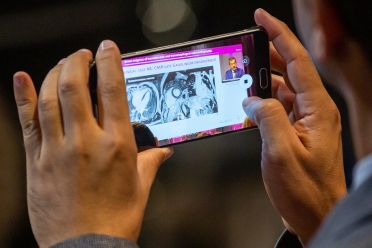 For four years we have been planning a pioneering EACVI 2020; the first cardiovascular meeting covering all imaging modalities in one unique congress. But we did not plan on a pandemic.
Given our responsibility to protect the health of our faculty, delegates, and staff, the EACVI Board has decided that cancelling our physical congress in Barcelona is the only responsible course of action.
Despite the current context, our commitment to deliver an outstanding learning and networking opportunity for the community remains unchanged.
As such, I am pleased to announce the launch of the most innovative online CV imaging event ever undertaken: 'EACVI – Best of Imaging 2020'.
The online event will take place on 11 and 12 December and will offer a tailor-made programme for today's cardiac imaging community, including:
Advanced sessions on each imaging modality
A patient-centric, multi-modality approach to early diagnosis and patient management
The best of imaging, highlighting important recent developments
Panel debates with experts commenting live on the presentations
Presentation of all accepted abstracts
Exclusively this year, EACVI – Best of Imaging 2020 will be free of charge, making this a unique opportunity for the global imaging community to meet online and share the latest scientific advances. So register now and spread the word!
Should you have any queries, please refer to the web page to answer your questions.
We look forward to seeing you online.
Professor Thor Edvardsen
EACVI President 2020 -2022
Social Media

We have an amazing team of Twitter Ambassadors who will bring you the latest updates from #EACVIBestof2020. We are as excited as they are to create insightful discussions around the most awaited event in #cvimaing of the year. Don't be shy. Follow them on Twitter, engage with them and the wider #cardiacimaging community worldwide.
Please use the official hashtag #EACVIBestof2020
Thor Edvardsen: @ThorEdvardsen
Bernard Cosyns: @Cosyns
Bogdan Popescu: @bogdan_popescu1
Chiara Bucciarelli Ducci: @chiarabd
Alessia Gimelli:@alessia_gimelli
Sarah Moharem-Elgamal: @Sarah_Moharem
Giulia Vinco: @Giulia_Vinco
Ayisha Khan-Kheil: @KhanKheil88
Shehab Anwer: @ShehabAnwer
Hatem Soliman-Aboumarie: @hatemsoliman
Rafael Vidal Perez: @rafavidalperez
Henry Han: @HanCardiomd
Vass Vassiliou: @vass_vassiliou
Continuing Medical Education (CME) Credits
EACVI - Best of Imaging 2020 will be submitted to the European Accreditation Council for Continuing Medical Education (EACCME®).
The EACCME is an institution of the European Union of Medical Specialists (UEMS), www.uems.net.