It was a great pleasure to meet all of you in Madrid and online. Thank you for your contributions and great discussions.
Catch up on what you missed!
One of the many benefits Silver Members of ACNAP, the Association of Cardiovascular Nursing and Allied Professions, received is the year-long access to your congress resources on ESC 365, the cardiology knowledge hub.
Review abstracts, slides and video on ESC 365
Not yet a member of ACNAP? join us now.
Find out more on how to retrieve your Certificate of Attendance and Continuing Medical Education (CME) credits.
The congress is designed for nurses and allied professions from across all core specialties within cardiology to strengthen professional development and deliver high quality clinical care.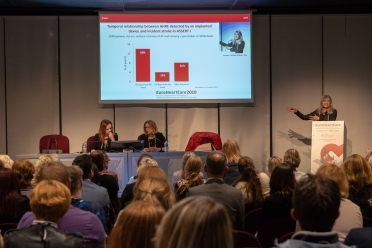 The scientific programme is carefully designed to provide education and training across all core specialties with international leading experts. It includes:
• Expert interactive multidisciplinary sessions.
• Science and research skills workshops, including a pre-congress workshop in novel research methodologies.
• Dedicated tracks with practical guidance on how to perform procedures, implement guidelines and deliver high quality clinical care..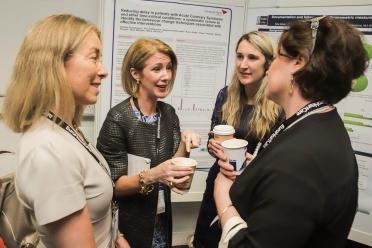 Network with peers from other countries about building on successes, overcoming challenges and strengthening collaborative efforts for the future.
Get inspired by presented cases and the wide-ranging reach of the community.
An interactive research, education and onsite networking 'gateway' zone with simulated case management scenarios, meet the experts, rapid fire abstracts and professional development sessions.
ACNAP-EuroHeartCare 2022 Congress Programme Committee
The ACNAP would like to express its thanks to all those healthcare professionals who volunteered to give their time leading the ACNAP-EuroHeartCare 2022 programme and who drove forward scientific exchange.
See the Congress Programme Committee led by:

Dr. Jennifer Jones,
Scientific Programme Congress Committee Chairperson
| Position | Name | Country |
| --- | --- | --- |
| Chair | Jennifer Jones | United Kingdom |
| Co-Chair | Elena Marques-Sule | Spain |
| Member | Catherine Ross | United Kingdom |
| Member | Erika Froelicher | USA |
| Member | Gianluca Pucciarelli | Italy |
| Member | Helen Walthall | United Kingdom |
| Member | Izabella Uchmanowicz, FESC | Poland |
| Member | Maggie Simpson | United Kingdom |
| Member | Maria Back, FESC | Sweden |
| Member | Raúl Juárez Vela | Spain |
| Member | Robyn Gallagher, FESC | Australia |
| Member | Sotiris Antoniou | United Kingdom |
| Member | Suzanne Fredericks | Canada |
Local Host Committee members led by Elena Marques-Sule, Co-presidenta del ACNAP–EuroHeartCare Congress 2022:
Isaac Moll-Adrián
Concepción Cruzado-Álvarez
Jose-Miguel Rivera-Caravaca
Jose-Luis Zamorano
Marta Farrero
"La edición de este año del congreso ACNAP–EuroHeartCare Congress 2022 es especialmente interesante. Disfrutaremos de sesiones en español, con la opción de asistir a dos congresos por el precio de uno en el IFEMA de Madrid, y con la posibilidad de asistir en persona, o bien online. ¡Inscríbete y disfruta del congreso!"

Elena Marques-Sule
#EuroHeartCare is buzzing
Follow our amazing team of Twitter Ambassadors for the latest updates from the congress. Join them for insightful discussions: @BulckLiesbet @AnaFGomesNsp @m4ggiesimpson @EkateriniL @Angie_Durante89 @EditorEJCN @ACNAPPresident @MarielaAcunaM1 @susiecartledge